Faith, South Dakota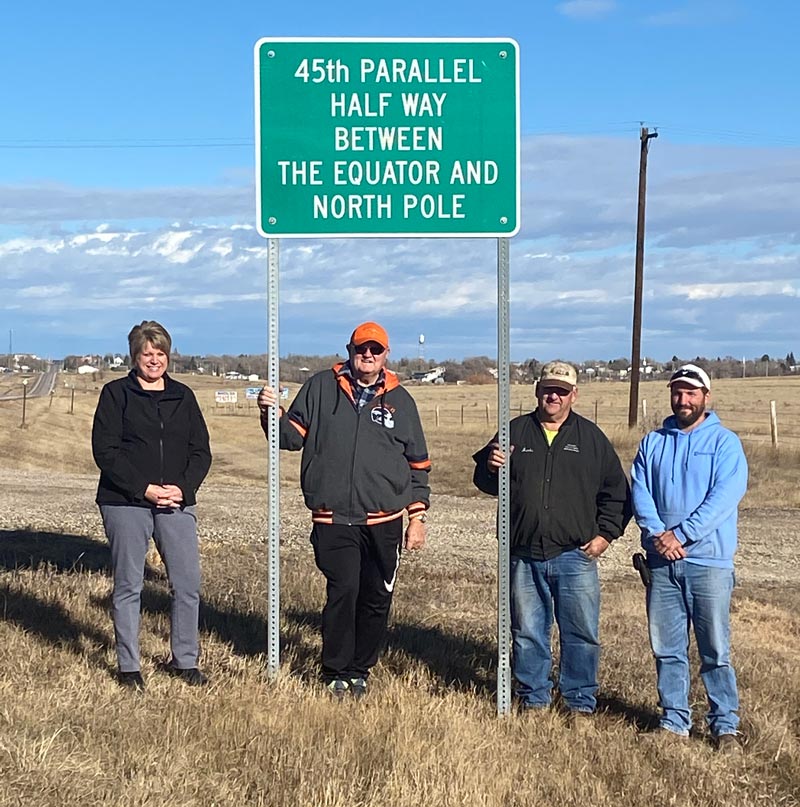 The small town of Faith (population 421) may be best known as the hometown of "Sue", the famous Tyrannosaurus Rex, who lived about 15 miles from here 67 million years ago. Sue is commemorated with a scrap metal sculpture of the dinosaur northeast of the center of town.
Through the efforts of local resident Craig Ness, the town now has another landmark to place it on the map: a new sign marking the 45th Parallel and its position halfway between the North Pole and Equator.
The 45th parallel passes about a mile and a half south of the town. In November 2020, the South Dakota Department of Transportation placed signs marking its crossing on Highway 73 directly south of Faith.
45th Parallel
Half Way
Between
the Equator and
North Pole
Craig notes that the new sign in Faith falls almost in the center of what had been a more than 900-mile gap in 45th Parallel markers between Yellowstone and Minneapolis. 45th Parallel tourists now have a new photo-op to take a break while crossing the plains.
Photo by Krissy Johnson for the Faith Independent, courtesy Craig Ness.
View 45th Parallel Markers in Google Maps