Menominee, Michigan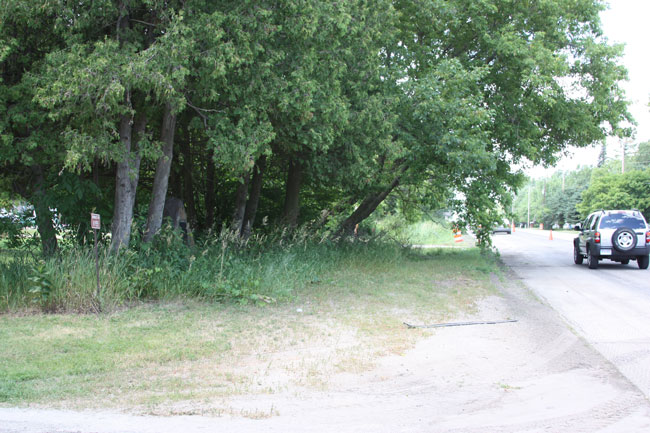 Leaving Menominee to the north on Highway 41, the traveller passes a neglected stone marker hidden behind weeds and poison ivy under a clump of cedar trees. The boulder sits on the west side of the road directly in front of some houses.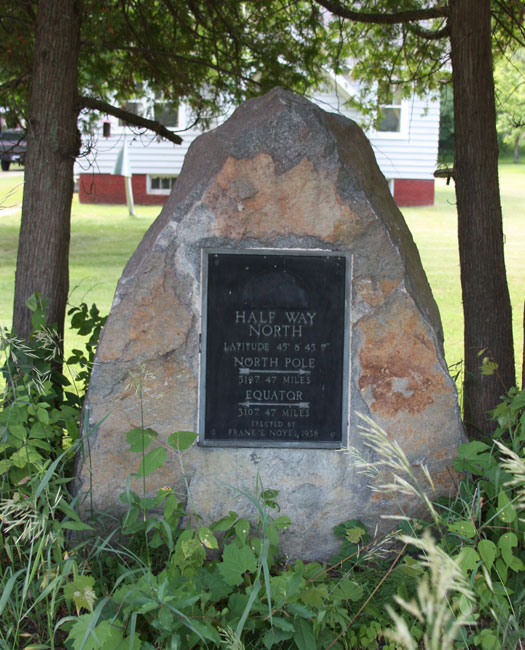 This boulder marks a spot exactly equidistant from the Equator and North Pole, both 3,107 miles away.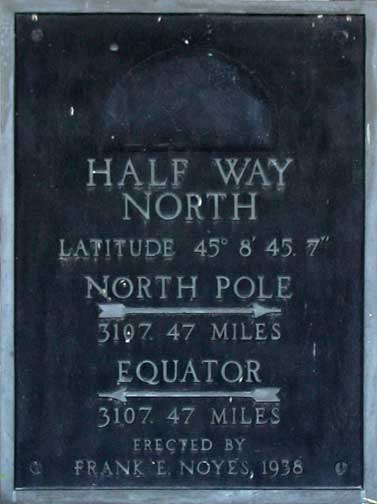 Half Way North
Latitude 45° 8' 45.7"
North Pole
>------------->
3107.47 Miles
Equator
<-------------<
3107.47 Miles
Erected by
Frank E.Noyes, 1938
Frank E. Noyes (1856-1941) was editor and publisher of the Marinette Daily Eagle just across the Wisconsin state line south of Menominee. His father had started the paper in 1871, and his son would later inherit it. Frank Noyes was involved with many civic organizations in Marinette and a booster of the young town. A history buff, he became interested in the 1930s in creating several bronze plaques around town at the sites of historic events. In order to create a monument marking the 45th Parallel, Noyes spent several years corresponding with the National Geographic Society to pinpoint its location, and ultimately decided to place three plaques honoring the 45th Parallel in the area.
Frank Noyes placed two other monuments in the area: One directly to the west near Beaver, WI which also marks the Half Way point along Highway 141, and another farther south on Hwy 41 near Oconto, WI which marks the 45th Parallel. The Oconto marker was also once located in a clump of cedar trees and would perhaps be similarly overgrown today if it had not been relocated to a small roadside picnic area in 1954.
View 45th Parallel Markers in Google Maps