New Meadows, Idaho
The theoretical line of the 45th Parallel crosses the valley of the Little Salmon River a few miles north of the small town of New Meadows, Idaho. Driving this way years ago in the late spring of 1996, I happened upon a little tourist kiosk along the side of the road where the 45th Parallel intersects with Highway 95. There was no one there, no gift shop or bathroom: just a simple 3-sided structure like a roadside shrine built to honor this geographic curiosity. Inside the shelter there were framed cases with info about the area, a map of the 45th Parallel across North America and tidbits about other places around the world at the same latitude.
I did not take any photos on that visit, but the line on the map circled in my imagination as I continued north on Highway 95. What would it be like to follow the parallel around the world? Where else along the way are markers where geography-minded tourists might stop to think about these imaginary lines circling the globe? Several years later I came across other markers to the parallel in Wisconsin and began photographing them for this website.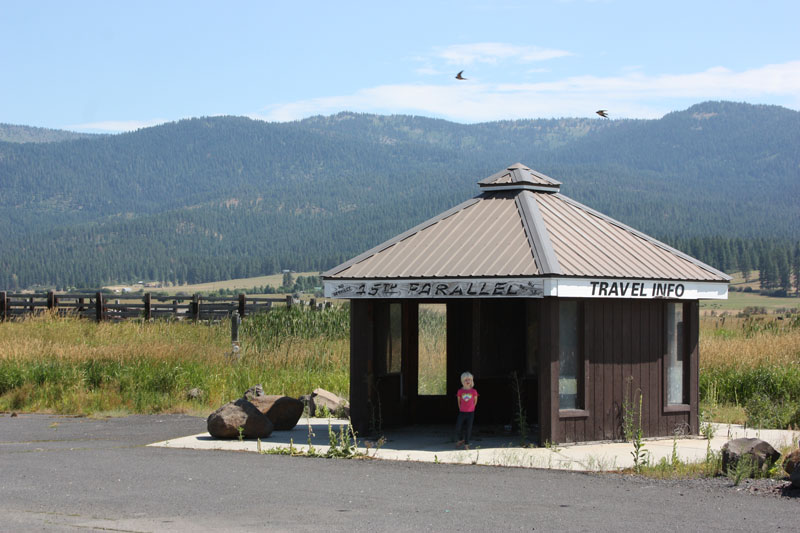 In the summer of 2019 my family and I had a chance to return to New Meadows to revisit the shrine which first kindled my interest in the 45th Parallel. The charming little roadside rest stop is now unkempt and falling into ruin, a shelter for wind-driven garbage and barn swallows.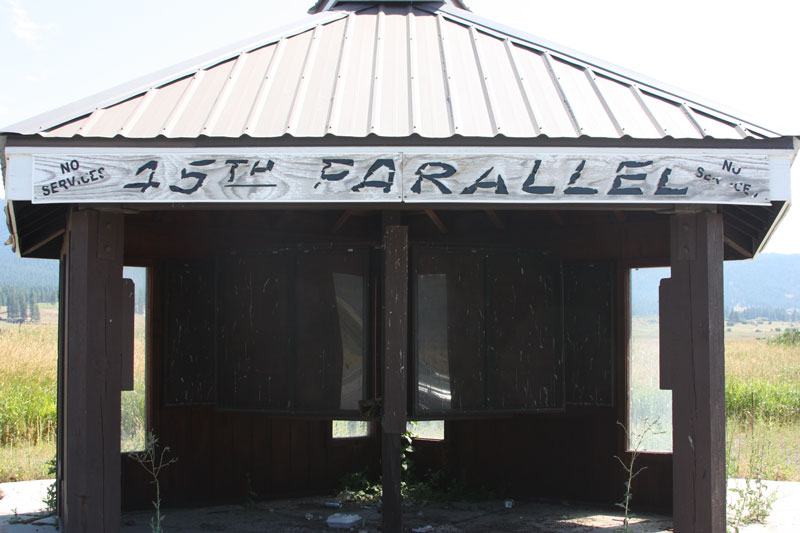 The signboards and geography displays have been stripped away and everything is covered in bird droppings. What happened to this place?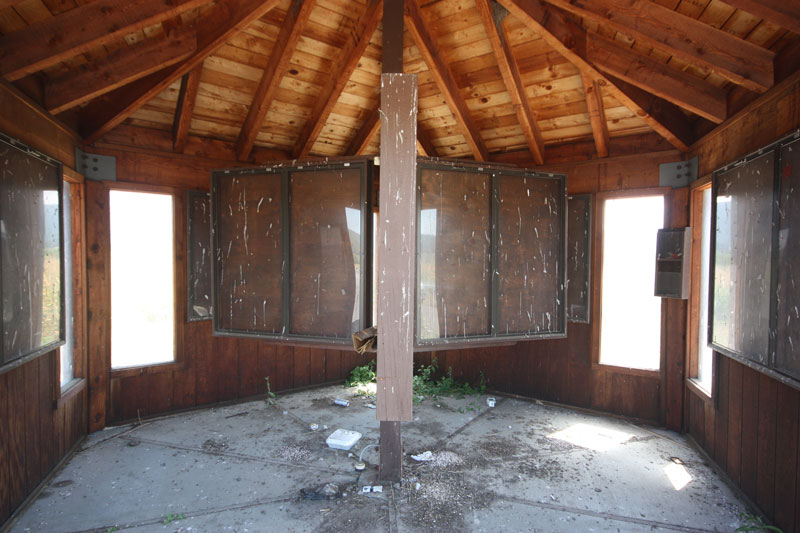 There are a handful of photos online which show what the building and its displays looked like in better days. From tourist photos online, the kiosk seems to have been abandoned around 2012. Did something terrible happen in this lonely roadside shed that year? Did the Chamber of Commerce run out of money to maintain the low-key tourist attraction? Passing through the town of New Meadows after visiting the derelict kiosk, we did not notice any local businesses referencing the unique location roughly halfway between the Equator and North Pole. Perhaps there is not enough interest in geography here, or curiosity about New Meadows' place in the world, to sustain interest in keeping the site?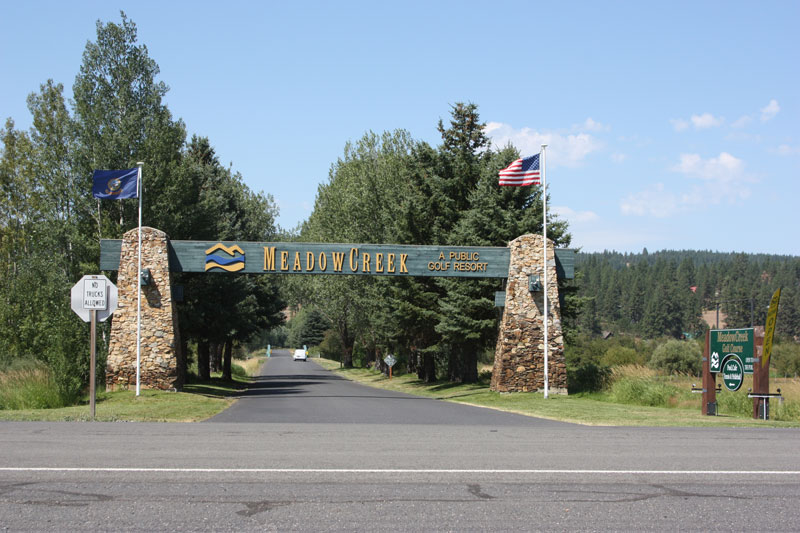 Directly across the road from the kiosk, 45th Parallel Drive is the entrance to the well-watered and well-maintained Meadow Creek Golf Resort.
Just south of the roadside turnout for the kiosk there are a pair of green highway signs marking the parallel for the cars racing past north and south.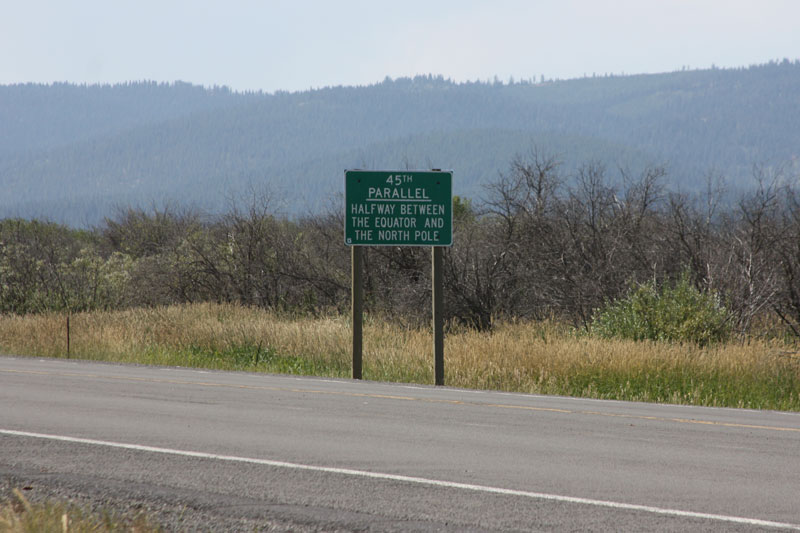 45th PARALLEL
HALFWAY BETWEEN
THE EQUATOR AND
THE NORTH POLE
If the little roadside tourist stop is eventually demolished and forgotten, the imaginary line of the 45th Parallel will remain, as well as the prairie grass which gave the Meadows Valley its name.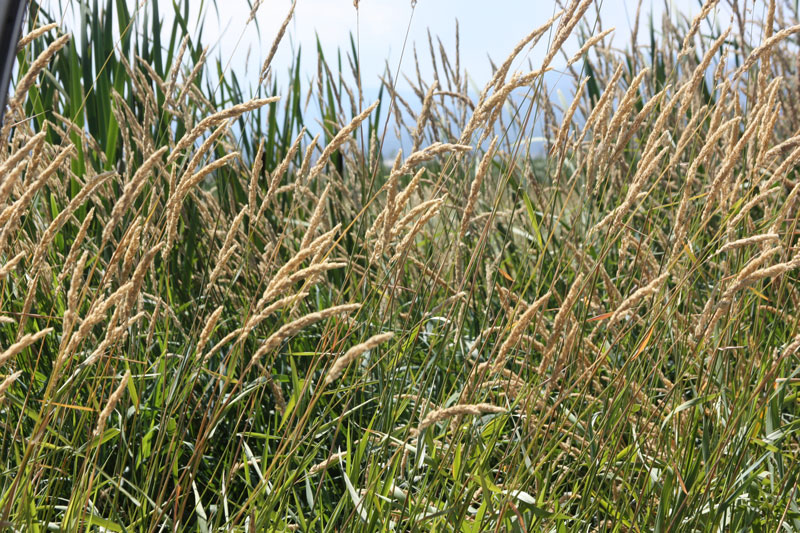 View 45th Parallel Markers in Google Maps