Yellowstone National Park, Wyoming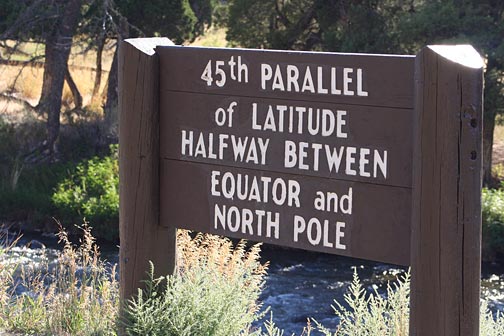 The 45th Parallel sign in Yellowstone National Park may be the most visited and photographed of all 45th Parallel markers. It is a milestone for travellers heading north or south on Highway 89, the scenic route connecting seven famous western National Parks. Heather Holbus shares this photo of the rustic wooden marker, which is located at a roadside turnout along the Gardiner River just north of Mammoth Hot Springs.
Many visitors assume that the sign also marks the border between Montana and Wyoming, but while for most of its length the border between the two states follows the 45th Parallel, within the park the state border follows an erratically surveyed line slightly to the north of 45°. The border of the park is farther north within Montana, and marked with a dramatic stone gate just outside Gardiner, Montana.
In 2008 the 45th Parallel sign was moved to a new turnout several hundred feet north of the 45th Parallel and across the highway from its previous location. 45th Parallel purists need not be too dismayed, however, because neither the original location or the new location are exactly on the 45th Parallel, but simply at a safe parking area not far away.
45th Parallel
of Latitude
Halfway Between
Equator and
North Pole.
View 45th Parallel Markers in Google Maps

Copyright ©2016 Matt Bergstrom - photos ©Heather Holbus