Albany Bulb - Albany, California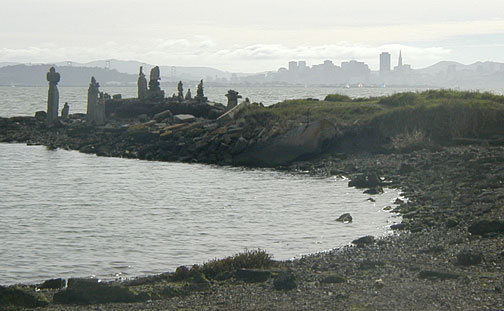 This small man-made peninsula in San Francisco Bay just south of Berkeley was once a dump for used construction materials. The city of Albany closed the site in 1984, and the trash heap was gradually reclaimed by weeds, scrub vegetation and the edge creatures of regrown brownlands. In time, human pioneers discovered the little peninsula with spectacular views of the Bay as a place to build secret squats to live free and independent of the pressures of the city. A little settlement of shacks and impromptu shelters scattered around the former landfill grew through the late 1990s with indigent refugees when authorities cleared out nearby homeless camps.
In about 1998, a semi-anonymous collective of four amateur artists known as "Sniff" began creating sculptures and art installations from the refuse just under the surface and washed up on the shore at the Bulb. Osha Neumann, an attorney for the homeless, was introduced to the site by a client, and built some sculptures of his own. Other passing artists and hoboes contributed their own paintings, graffiti and constructions, in a creative conversation in the open space of the trash heap. Working only at night, "Mad" Mark built a little pillbox castle from concrete slabs and blocks. Some artists assembled driftwood into a lively 30-foot long dragon. Others sculpted big blocks of styrofoam cast up on the beach, or painted murals on concrete blocks and plywood billboards set up along the trails across the peninsula. Jimbow the Hobow built a tiny shed to house the "Landfillian Library" for visitors to take or contribute books.
The city of Albany evicted the homeless who were camped at the Bulb in 1999, and the artworks seemed doomed. The site is in perennial danger of being cleared of its trash and developed into a clean park or nature area, depending on the whims of the city and state. Every year rumors of gentrification and the end of the sculpture park circulate. The unstable art deteriorates in the weather or is vandalized, but other artists create more work to replace it. The photos here were taken in 2004 and no doubt the site has changed much since then. Many of the homeless have returned to occupy the open land, and the park has become known as an off-leash dog park, where humans, animals, and art can run unpoliced and free of the big city's rules and strictures.
More Photos of the Albany Bulb
Controversy of the artwork
Edge City: Last Days of the Albany Squat
Profile of Osha Neumann