Bishop Castle - near Beulah, Colorado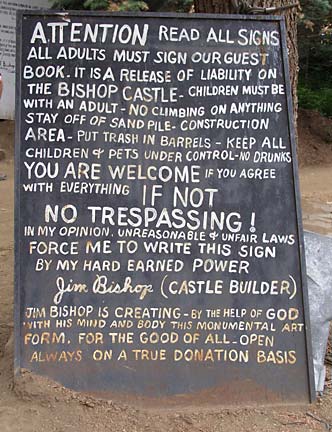 Jim Bishop first built a stone cabin on his property in the Rocky Mountin foothills west of Pueblo, Colorado in 1969. Neighbors said the rough stone construction looked like a castle, which inspired Bishop to keep building, resulting in a spectacular fantasy fortress of crooked towers and baroque wrought ironwork. Using leftover rock from highway construction projects and working primarily alone, his castle has steadily taller year by year. The castle features several towers, the highest soaring to 160 feet. The rough walls are strung with spindly wrought-iron balconies and staircases like a fun-house maze to the top. Climbing the castle is not for those afraid of heights. A fire-breathing dragon figure-head made from recycled metal cafeteria trays tops the great hall of the castle, which is rented out for weddings and special events.
Over the years, Jim Bishop has struggled often with local government officials who have held him back from his lofty plans. The site is peppered with hand-lettered signs arguing his point-of-view, not so much to win the visitor to his side but simply as a record of injustices beaten back by truth. On a warm day the castle is crawling with tourists enjoying a kind of libertarian freedom zone of open sky and clear air, free from safety railings and building inspectors. Bishop Castle embodies the freedom of the westerner to realize his dreams, unhobbled by the fences of small-minded rules and conventions.