Chateau Laroche - Loveland, Ohio
12025 Shore Road, Loveland, OH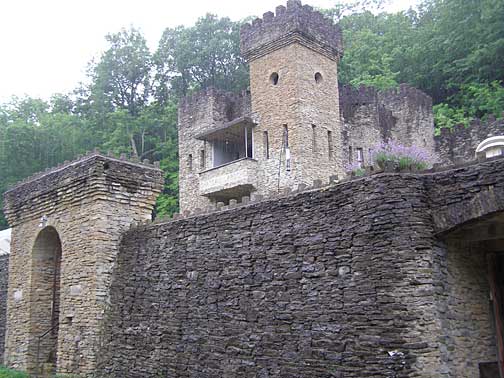 Bachelor Harry Andrews built this replica castle by hand from river limestone and thousands of sacks of concrete. After serving in France in WWI, Andrews was inspired to build a Norman fortress on a piece of isolated riverbank land along the Little Miami river he'd purchased in 1927. Here he created an imaginary club for the boys in his Sunday School class, called the "Knights of the Golden Trail", where Sir Harry and the boys could pretend to be the defenders of honor and valor. They swore an oath to uphold the Ten Commandments, and reject the temptations of 20th century America in town.
From its beginnings as a rugged play house, Sir Harry continued to add to the fortress in his free time and on weekends. He scavenged loose rock from the river banks, and hauled it up the hill alone, bucket after bucket. He studied the construction methods of real castles so that he could teach the boys how the defenders might pour boiling oil on attacking armies, or how a nail-studded door might resist the attacks of sword and axe. After he retired from a career as a newspaperman, Andrews made the castle his home. He graded an access road down the steep bluff to the riverbank, and added terraced gardens and walls around the grounds. Many of the walls of the castle are built from thousands of homemade concrete bricks cast in milk cartons, with an empty tin can stuffed inside to save a bit of cement.
Over 50 years after he started, Andrews was still working on his castle, and still enjoying the company of the young Knights who came to learn about a simpler time of bravery. But good fortresses don't always make good neighbors, and late in life Sir Harry found himself defending his castle with a shotgun and pistol against vandals and hooligans who sabotaged his garden and harassed him in the night. He died in 1981, aged 90, and passed the castle on to his beloved Knights of the Golden Trail for safekeeping.
Directions to and hours of the castle are at lovelandcastle.com.