Retro Park - Listvyanka, Russia
62B Kulikova Street, Listvyanka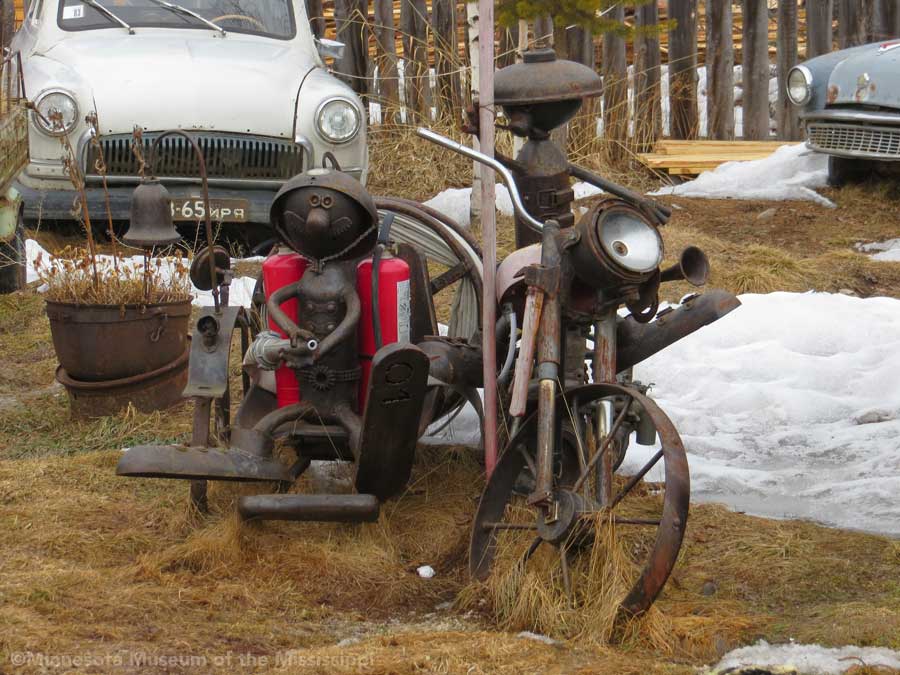 The little resort town of Listvyanka is located on the shores of breathtaking Lake Baikal, an hour's ride from Irkutsk by minibus. The small town has a handful of tourist attractions, including the "Retro Park" sculpture garden. A sign at the church will direct you down a muddy lane a few blocks south to a fenced yard marked by a homemade whirligig. Amidst a rusty collection of intriguing vintage Russian automobiles and motorcycles there are homemade artworks.
Retro Park was created by artist Dmitry Osipov to display his scrap metal sculptures. They are mostly cartoonish creations with impish grins and playful poses. Though welded from odd scraps such as fire extinguisher tanks and car parts, the sculptures are quite expressive and charming. The son of well-known Lake Baikal painter Vladimir Osipov, Dmitry grew up surrounded by art and artists, so creating sculptures from scavenged materials was a natural thing to do.
Sadly, the little wooden house that functioned as Dmitry and Vladimir's studio burned down in November 2012. Hopefully they will rebuild. On my visit in April 2013 the park was not really open: indeed I was chased off by an angry guard dog! Still I enjoyed seeing the corner of the park that was beyond the reach of the dog's tether.
A visit to Dmitry and Vladimir Osipov's studio
More photos of Retro Park