Silvio's Italian-American Museum - Redford, Michigan
26417 Plymouth Rd, Redford, MI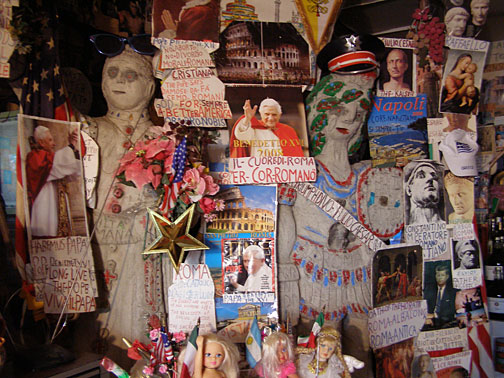 Silvio Barile created this sculptural tribute to the cultures of Italy and America in the back of his pizza restaurant. As a child he survived the challenges of living in poverty in a camp in WWII Italy and finally made it to the US as a young refugee in 1956. After training as a baker he was able to purchase his own bakery and pizzeria in 1960.
Adjusting to life in America, Silvio became frustrated with the shallow materialism he saw around him. Wishing to educate his customers about the richness of culture and history, he sculpted handmade concrete monuments to Christopher Columbus, Julius Caesar and highlights of Roman architecture. Over the years he has constructed many other memorials to Americans he admires, such as Martin Luther King, George Washington, the Detroit Red Wings, Rosa Parks, President Bush and the Three Stooges, as well as tributes to his family and recreations of childhood memories growing up in rural Italy.
Silvio Barile crowded the garden in back of the pizza parlor with brightly-painted monuments and then filled an empty lot across the alley with more. A walk through the garden is an education, as Silvio explains the significance of each monument, extolls the great works of Italian art, breaks into operatic songs, or argues his political beliefs.
And Silvio has filled the interior of the restaurant with his artwork as well. Every flat surface of the walls has been papered over with a dense collage of imagery of famous figures and Silvio's writing in Italian and English telling us why these people are important. The city health department did not appreciate this bric-a-brac cluttering every surface of the restaurant, and after several battles, Silvio was forced to quit selling pizza in 2002. He stills sells groceries, and the dusty bottles of wine which crowd all available shelf space and floors of the aisles. You won't be allowed to leave without a bottle!