Dan Slaughter's Wood Crafts & Junk - McGregor, Iowa
30279 Klein Brewery Rd, McGregor, IA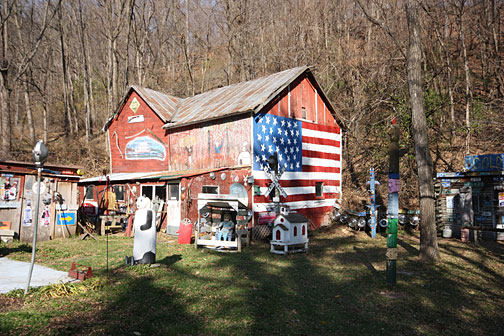 On a winding road just west of the Mississippi River town of McGregor, Dan Slaughter has assembled a cluttered yard of chainsaw carvings and antique signs. For many years he worked in auto repair, when one day, while fixing a customer's chainsaw, he was suddenly inspired to start making artwork.
His chainsaw sculptures are not the usual eagles and bears but depict movie or cartoon pop culture characters and one-liner jokes. They are carved from telephone poles and recycled wood and painted bright colors. Slaughter displays his artwork here and there in the backyard, behind the house or in the barn, amongst vintage advertising signs and antique carnival rides he has collected.
Dan Slaughter's antiques collection was featured in an episode of American Pickers.