Smiley House of Muncie - Muncie, Indiana
Port Ave & 14th St, Muncie, IN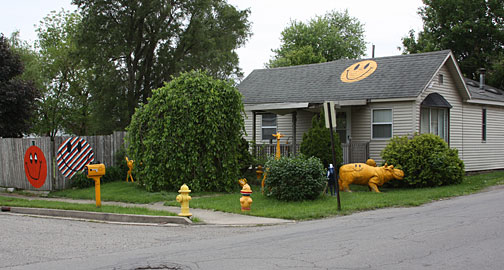 Kathy Hathaway has decorated her Muncie, Indiana, house with numerous yellow smiley faces. The iconic smiling circle was invented by Harvey Ball in 1964 for an insurance company promotion, but became a ubiquitous emblem later on when novelty-makers Bernard and Murray Spain added the phrase "Have a Happy Day" and printed the graphic on t-shirts, greeting cards and mugs. At the height of the pop culture craze in 1972 it is estimated that 50 million smiley face items were produced around the world.
Unlike those mass-produced frozen grimaces of consumerism, the smiley faces at the Hathaway house are relaxed and at ease. Their hand-painted grins are good natured and warm. The large plywood roundels on the fence depict smiley faces in the garb of each season. In the window small tchochkes peer out of the house to passersby. Most unusual are the concrete lawn ornaments done over in yellow paint with added on smiles and red lips. Other than a lone Indiana Colts blue pony standing out from the others, the bright yellow colors and peering eyes of the multitude of sunny faces populate the street with a happy crowd at all times.
A Youtube video made by Weird Muncie highlighting the house.