Thunder Mountain Monument - Imlay, Nevada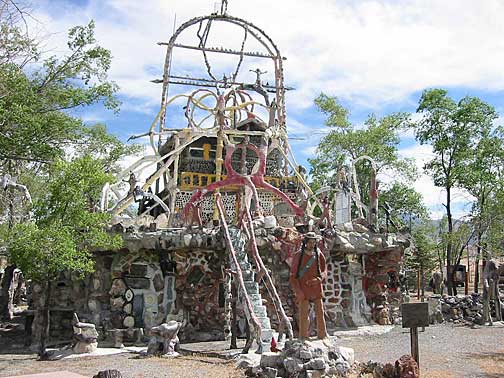 In the late 1960s, Frank Van Zandt was warned of an impending apocalpyse. So he started to build a rock and concrete 'mountain' shelter and community center in the midst of a flat plain in the Nevada desert. Chief Rolling Mountain Thunder, as he called himself, gathered materials from the local dump to start the project. He incorporated automobile parts and cast off household implements into a three-story house surrounded by concrete sculptures within a fenced-in yard.
Van Zandt seems to have wanted to memorialize women and Native Americans in creating his 'monument', though it is unclear if the concrete sculptures are meant to represent specific figures or just generalizations of people he felt deserved recognition.
Hard-bitten trees surrounding the monument create a sort of dusty oasis in the midst of scrub desert. Originally the trees were part of the overall sculpture. Many are adorned with horseshoes and other metal objects which are now grown deep into the wood.
The monument is in disrepair, but still open to visitors. The Thunder Mountain website has info and directions to the site.
Thanks to Peter Koontz for sharing these photos.