UCM Museum - Abita Springs, Louisiana
22275 Louisiana 36, Abita Springs, LA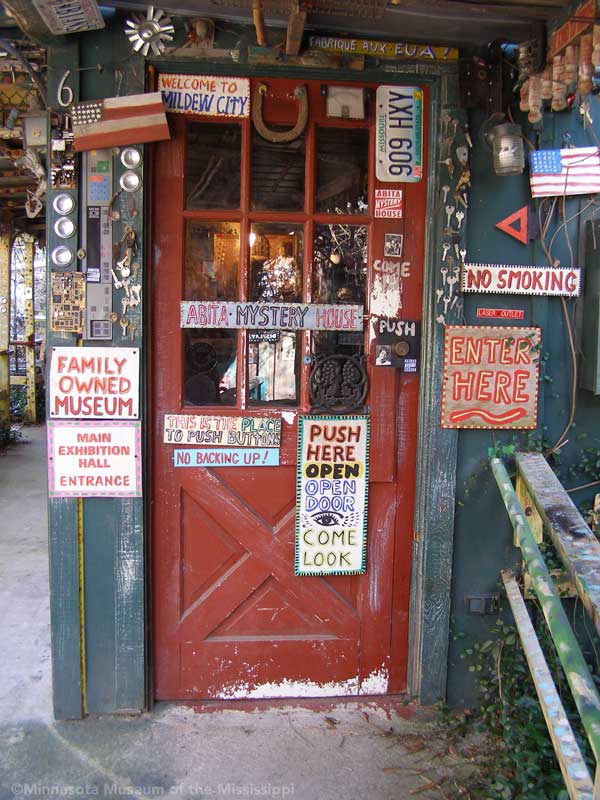 Artist and collector John Preble has gathered this eccentric collection of artwork and oddities, proclaiming it "Louisiana's Most Eccentric Tourist Attraction". The museum is housed in a classic Standard Oil filling station just east of the one-block main street of town. It was inspired by the dusty tourist traps out west, with a similar aesthetic of interconnected outbuildings packed to the rafters with amateur paintings, coin-op automata, and taxidermy novelties.
Passing through the gift shop, the visitor pays entry to a mysterious door, which leads out to an open-air courtyard enclosed by small buildings. A long building to the side houses a large collection of paint-by-number pictures and mechanical dioramas which come to life for a quarter. Some of the more whimsical exhibits include a tiny "ten-foot alligator" peep show, and other Louisiana equivalents to the classic jackalope. The largest of these is a car-sized Bassigator, a former Mardi Gras parade float art car, now housed under a canopy in a small yard surrounded by decorated bicycles slowly melting away into the rampant vegetation. At the far end of the museum grounds lies the House of Shards, a small structure covered in a glittering picassiette of broken glass and mirrors.
Hours of the museum are at ucmmuseum.com.