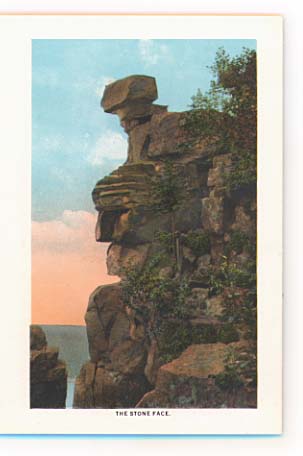 Folio
Obverse:
The Stone Face
Reverse:
Devil's Lake, Wisconsin State Park
This interesting Park consists of more than 1000 acres, and is located just outside of the beautiful city of Baraboo, Wisconsin. It is visited annually by thousands of tourists, not only from Wisconsin, but from all over the United States. The Lake is about one-half mile wide, and a little more than one mile in length; it is surrounded almost entirely by high picturesque rock formations, some of which resemble faces, some animals, while others remind us of the ruins of some old deserted castles. The Lake is apparently without inlet or outlet, yet its water is perfectly pure. The summits of the high bluffs are covered by a sturdy forest, through which well beaten trails lead the tourist to a wonderland of pre-historic rocks and cliffs, many of which permit a charming bird's eye view of the beautiful lake, 600 feet below. Unquestionably there has been in past ages a mighty struggle here between the "fragments of an earlier world". These grim and splintered rocks, rising hundreds of feet above the lake, present to us a profound impression of the works of nature, when great volcanic upheavals exerted their mighty power, and when mountains of glacial deposits were strewn upon the earth.
Publisher:
E.A. Bishop, Racine, Wis.
MNM#01-01042
Most likely the square rock above the face is Turk's Head Rock

N 43° 25.052', W 89° 44.27'
Other views of this formation: