---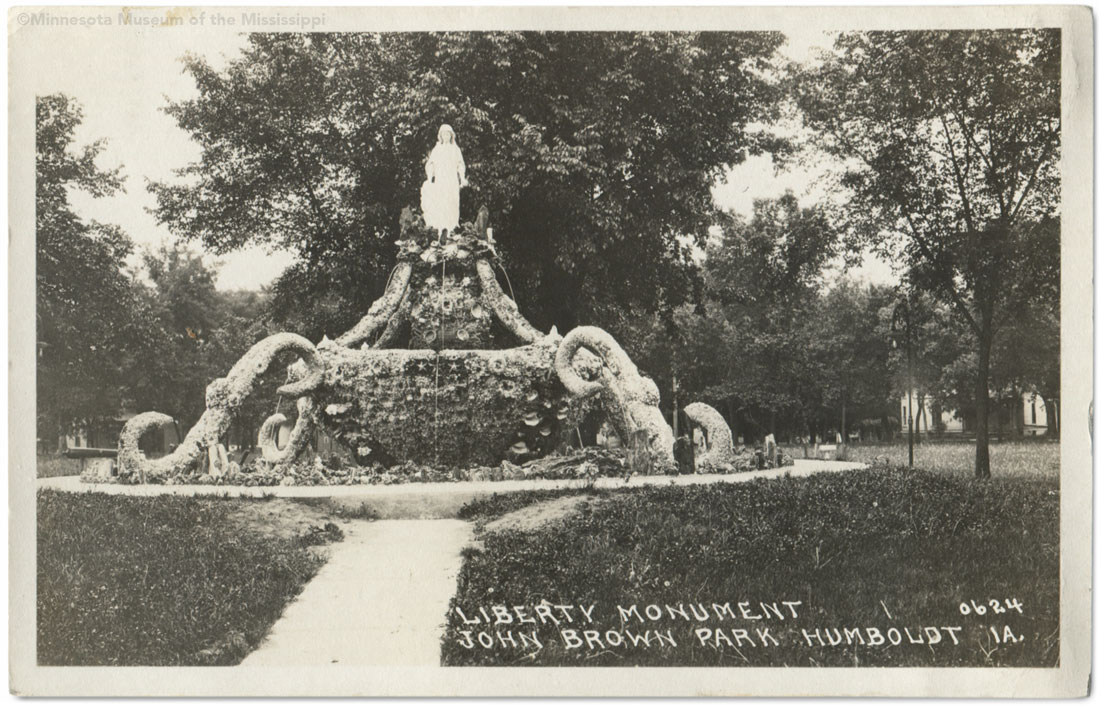 Father Paul Dobberstein's work on the Grotto of the Redemption in West Bend brought him fame and offers to build similar structures in other places. His first work built outside of West Bend was this memorial fountain which was completed in 1918. The fountain is a centerpiece of a small park which had been donated to the public by Stephen H. Taft, president of Humboldt College, and named after Taft's abolitionist hero John Brown.
The fountain was commissioned by local land-owner Dennis Hession (often nowadays misspelled "Hessian"). Hession grew up on a farm near Humboldt, and after a wayward youth he gradually invested in land until he had become wealthy. In 1902 he and his wife Charlotte and daughter Fay moved to Colorado Springs, perhaps to find a drier climate after Fay contracted tuberculosis. Sadly Charlotte passed away at 40 years old in 1910, and Fay as well about two years later at age 23. Heartbroken, Dennis returned to Humboldt and contacted Father Dobberstein to build a memorial to his beloved daughter in the style of the West Bend grotto. After making arrangements with the priest to start the project, Dennis Hession sickened from cancer and died in November 1914. In his will he bequested $105,000 (over $2.5 million nowadays) to build a church and a Catholic school in Humboldt, as well as funds to complete and maintain the fountain. Hession's friend Ed Ruse supervised the completion of the memorial and maintained it for many years afterwards.
Like Father Dobberstein's other small constructions in Carroll, Davenport, St. Joseph Ridge, and Wesley, the priest took no payment for his work except for the cost of materials. The fountain was designed and built entirely by Dobberstein. Some of the fountain was built in sections at his home workshop in West Bend and shipped to Humboldt for assembly. It's unclear whether Dobberstein started building the fountain the year that Hession contacted him, or if he only began after Hession's death. If he built the fountain in the same manner as the Immaculate Conception Grotto in Carroll, he may have visited Humboldt only briefly a few times a year to assemble the sections of pre-built pieces. With only a limited amount of time away from his home parish, the project may have taken several years to complete the project. 52 tons of rock and concrete went into its construction. The fountain was dedicated in a ceremony attended by thousands on a pleasantly sunny Sunday, September 22, 1918.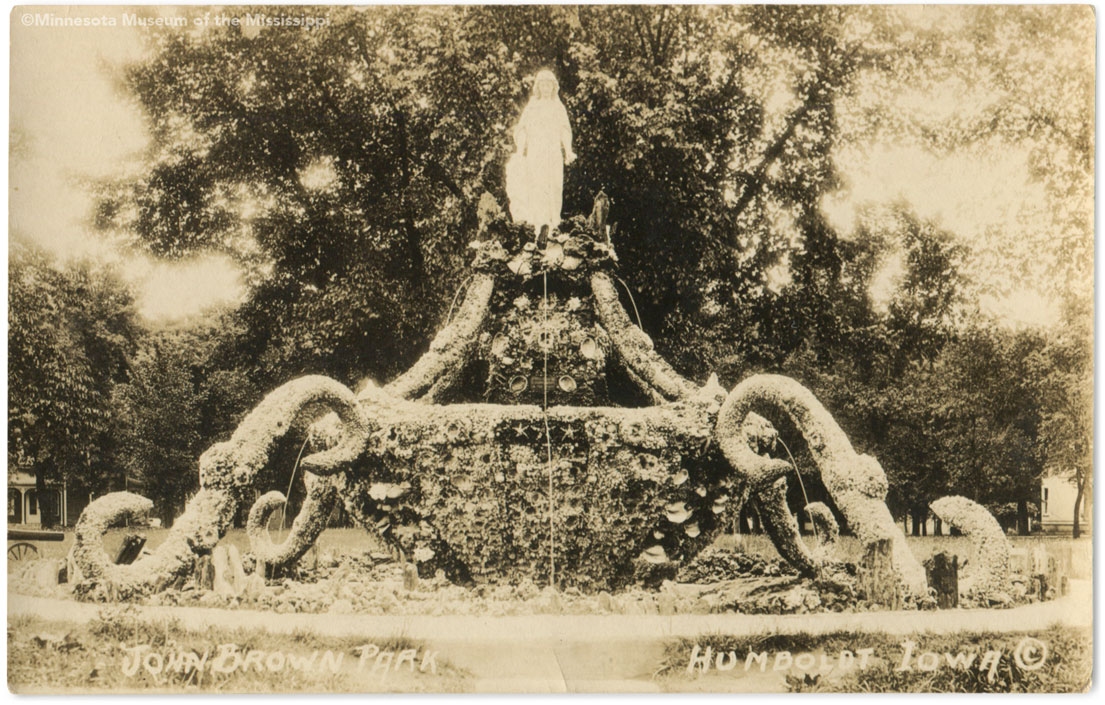 The fountain takes the form of a large bowl with four heavy scrollwork supports at the cardinal directions. A square pillar with four stonework sashes rises from the bowl to a base for a marble statue carved in Italy which is said to be a likeness of young Fay Hession. Small spigots of water project from two levels of the fountain to spill into a shallow basin at ground level. A low rock wall surrounds the basin and is inlaid with quartz fragments spelling out four mottos of LIBERTY, VICTORY, HUMANITY, and JUSTICE. Though the fountain was conceived as a memorial, it seems to have also incorporated a surge of patriotism as the Great War headed toward a conclusion a few months after the fountain's completion.
Postcard views of the fountain show a certain resemblance to an octopus poised on curled arms. Though Dobberstein may have intended the scrollwork supports made of concrete and stone to look light and elegant, from a distance they suggest thick, writhing tentacles. With its surface encrusted with geodes, crystals and sea shells, the fountain appears to be a coral reef sunken in a shallow sea, rather than in a pleasant park in small town Iowa. During construction, local parishioners donated their rock collections to add to the fountain. One wonders who contributed the magnificent conch shells embedded under the bowl and on the sides of the pillar.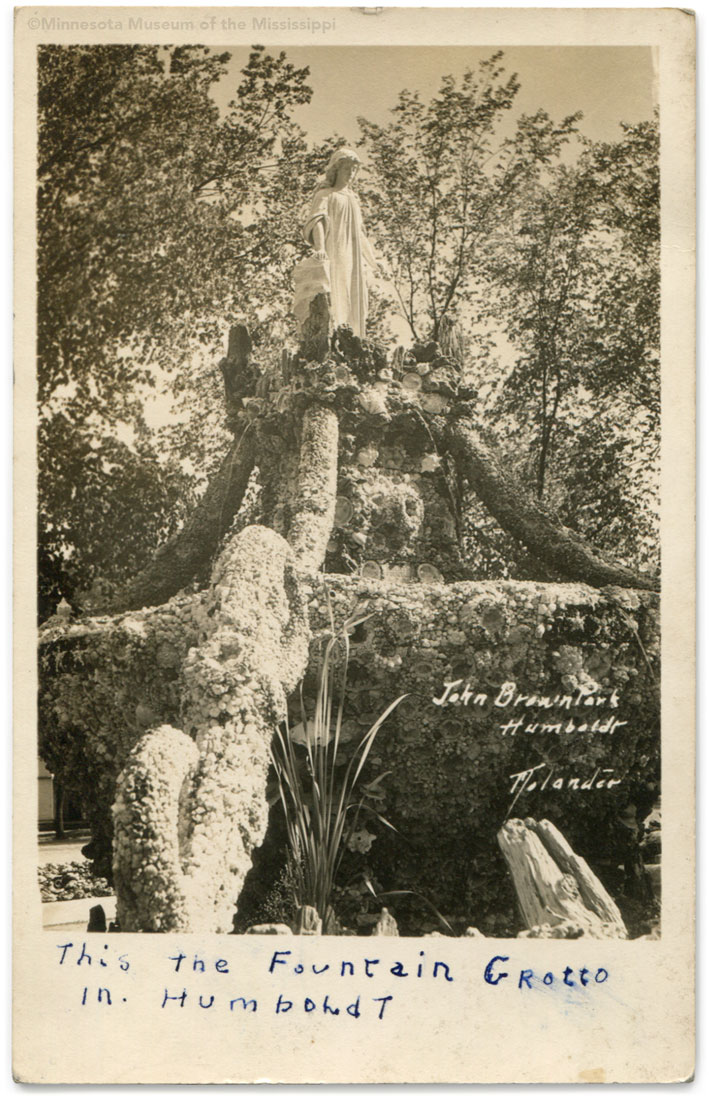 In the mid-1960s the statue lost its arms to vandals, but these were replaced with cast marble. By 2009 the water feature no longer functioned, but a restoration two years later repaired the fountain and fixed mortar that had corroded from years of exposure to over-chlorinated water. The fountain remains an important and well-cared for landmark in Humboldt.
The Fay Hession fountain is located at the center of John Brown Park at 200 5th St. South in Humboldt.
References and Links to the Fay Hession Fountain