---
Mollie Jenson's Art Exhibit - County Road M, River Falls, Wisconsin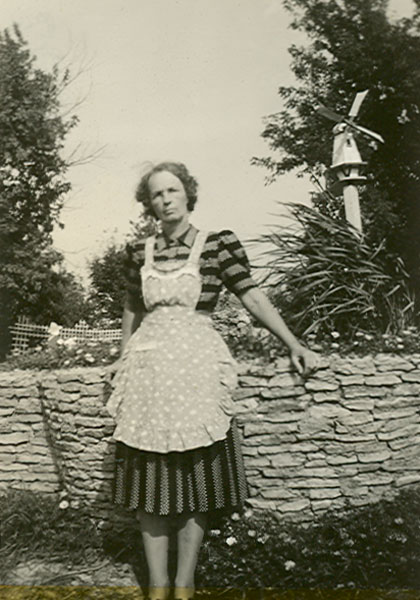 Obert and Amalia "Mollie" Jenson lived on a 360-acre farm along County Highway M, eight miles east of River Falls. The couple married in 1911 and raised six children on the farm where Mollie was born.
In 1935, a relative who knew Mollie's love of animals gave her a pair of orphaned raccoons, followed shortly by two squirrels found by a neighbor. Soon she had acquired dozens of other native and exotic animals kept in a row of wire cages east of the house and her homemade zoo was becoming a local tourist attraction. The collection eventually grew to about 150 animals, including a tame lion and a three-legged bear. On summer Sundays in the 1940s, as many as 800 people stopped by to see the free zoo on the Jenson farm.
In her spare time from farming and raising children, Mollie Jenson enjoyed making quilts, latchhook rugs, wood carvings, paintings and drawings. She was proud to show off her creations to zoo visitors. With the help of her children, in about 1938 she began building outdoor sculptures made of cement covered with broken glass to add attractions for visitors to enjoy, starting with a 15-foot Dutch windmill. She dug a fish pond in front of the house and decorated the yard with flower planters made of wood and cement. Later she built two larger concrete pavilions with enclosed glass cases to show off her wood carvings.
After Obert passed away in 1951, the Jenson children and neighbors helped Mollie maintain the zoo and feed the animals. In 1959 she closed the zoo and left the farm to live with her daughter in River Falls. After Mollie's death in 1973 her outdoor sculptures began to decay. Most of the structures were torn down in the late 1970s.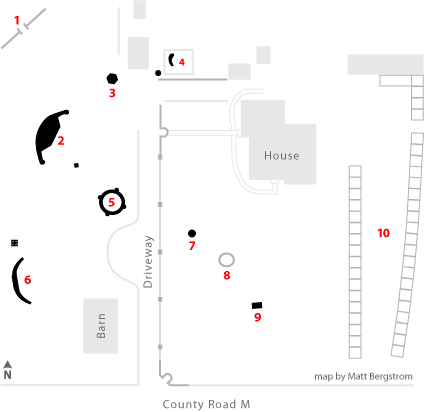 Key
Arbor
Wishing Well
Fish Pond
References and Links to Mollie Jenson's Art Exhibit
Many thanks to Richard Moldenhauer for sharing vintage family photos of his grandmother's handiwork.