---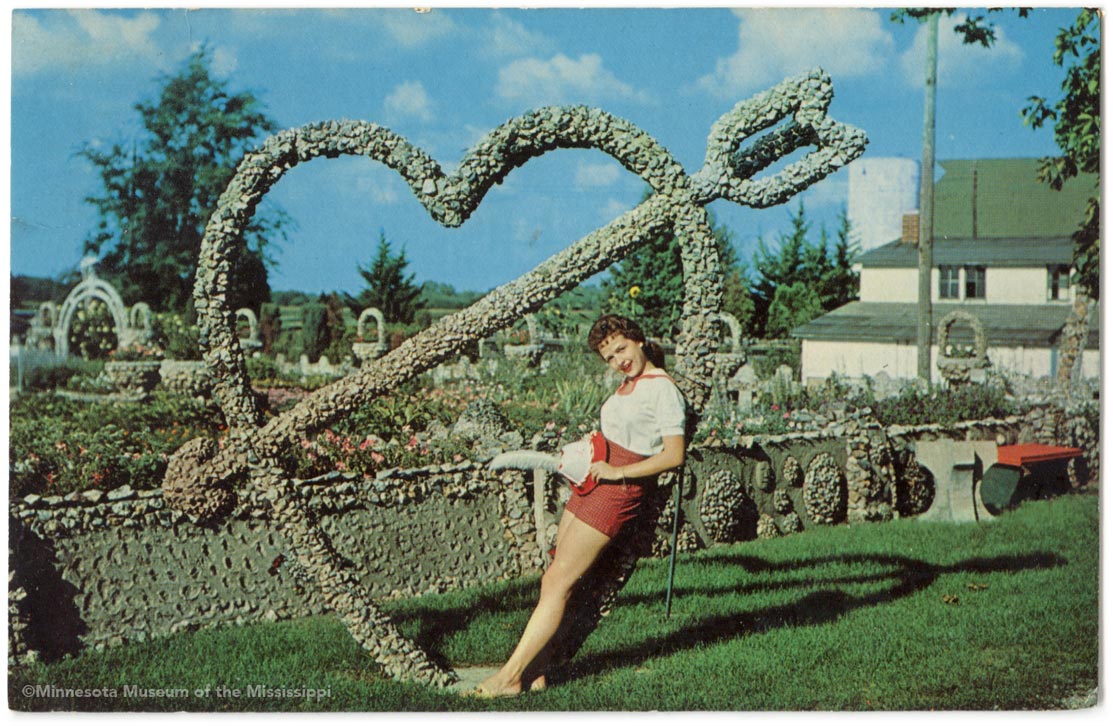 Rockome Gardens were well known in central Illinois as a family tourist attraction and Amish theme park visited by many thousands in the summer months. The park featured colorful flower gardens surrounded by rock walls and fences, and low-key entertainments such as a horse-drawn carriage rides and demonstrations of farming tasks using antique farm equipment.
Rockome Gardens was originally created by local businessman Arthur Martin and his wife Elizabeth. Martin was co-owner of Progress Manufacturing, a firm which occupied a whole city block in the nearby town of Arthur and at one time employed over 300 of the town's 2000 residents. The company made steel fuel tanks, caskets, and a variety of other items, including even shoes for several years. In 1929, Martin purchased a 208-acre farmstead to use as a summer home. Much of the farmland was eroded and worn out but a stand of hickory trees on the property attracted Martin's attention. He planted clover to replenish the soil and let the outlying fields regrow as pasture for livestock. In 1937, tenant farmer Ed Seitz reworked a low area which had previously been a hog wallow into a sunken garden between long concrete walls and his wife Mabel filled the garden with lush flower plantings. Martin was impressed with the result and encouraged them to expand the garden and rock walls into a larger area. Over the next few winters Ed Seitz built many of the fences pieces indoors to be installed in spring. In 1941, the Martins built a log cabin with a modern interior as a summer home in the hickory grove south of the sunken garden.
Within the next few years Martin and Seitz expanded the gardens to seven acres of the farmstead, with 50,000 flowers cared for by a staff of seven gardeners. Martin planned the rock embellishments and decorative fences, but the pieces were built by Ed Seitz and other hired workers. The fragile concrete fences and sculptures like the heart in the image above were formed around steel frames made from metal scraps from Progress Manufacturing. The rocks were gathered from glacial boulders found on nearby farms and from a nearby quarry and were then broken into smaller pieces by hired workers. At times, employees from Progress Manufacturing volunteered or were paid to help in the garden when work at the factory was slow.
From the beginning the Martins opened the grounds of the farm to visitors free of charge. Word of the colorful and lush gardens in the midst of ordinary farmland attracted increasing numbers of tourists, as many as 1,500 a week. Martin added new features each year, such as a cactus garden enclosed by a sham California mission, a fern garden with fifty varieties, and hundreds of types of roses, irises and tulips. The "guessing garden" challenged visitors to identify flowers before flipping over a card nearby to find the correct answer. At the south end, a large water garden with 35 shallow pools showcased water lillies and goldfish. In 1947 a parking lot and a gate were built at the north end of the garden to handle the crowds, and Rockome began charging a small admission fee. Martin found that adding the gate and admission charge stopped some of the vandalism that had occured in previous years.
In 1952 Arthur Martin deeded the farm to the Mennonite Church to use as a retirement home for missionaries and church employees, and retired to Florida. The Martins still paid for upkeep of the gardens, and kept their log cabin summer home on the grounds. The church built several cabins and a recreation building on the site, but sold the land a few years later in 1958 to local farmer Elvan Yoder and his family. Yoder had in years past been a tenant farmer on part of Martin's land, but now he took a chance on the business opportunity of running Rockome as a tourist attraction.
The area around Arcola has been home to many Old-Order Amish since 1864. Yoder, who was raised Amish, felt that visitors would be curious about this way of life that is not widely visible to outsiders. So he added buggy rides for children and a few farming exhibits, re-decorated the old farm house in Amish style and reopened Rockome Gardens as an Amish theme park. Over the years, the Yoders added a restaurant and small museum, miniature train rides and even a few trained chickens. They partnered with other business owners to run a rock shop, general store and trading post out of several buildings. They collected old farm buildings and a one-room schoolhouse from area and assembled them into a small main street display named "Old Bagdad" after a crossroads town which had once existed a mile or so to the west of here. Rockome Gardens became something between a theme park, living farm demonstration, and local-history museum.
The park lost a lot of visitors during the oil crisis of the 1970s when many local tourists cut back on the recreational Sunday drives that had first made Rockome Gardens so popular. In the '80s, a Haunted Cave attraction was added and a hall for holding quilt shows and other indoor events. The Yoder family sold the gardens in 2006, and new owners attempted to keep the farm-museum aspect of the park going with weekend tractor shows and other big events.
Rockome Gardens closed in 2015. The grounds were re-opened in 2016 as a drive-thru zoo and safari park. Most of the rock and flower gardens appear to have been demolished by the new owners.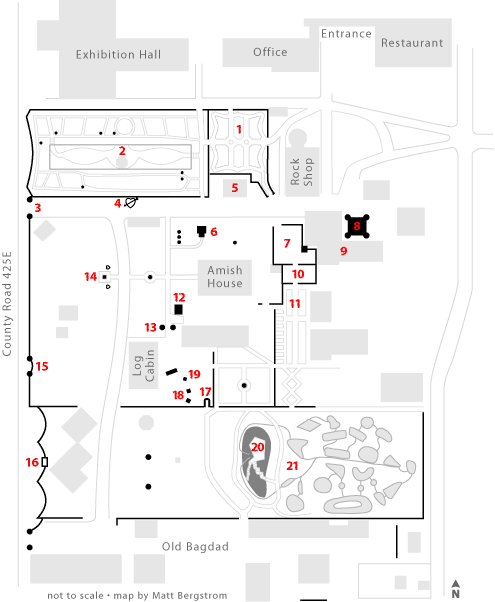 Key
Haunted Cave
Guessing Garden
Rockome Gardens are located 6 miles south of Chesterville and 4 miles east of Arcola, Illinois.
References and Links to Rockome Gardens