Nick Engelbert's Grandview - Hollandale, Wisconsin
7351 State Hwy 39, Hollandale, WI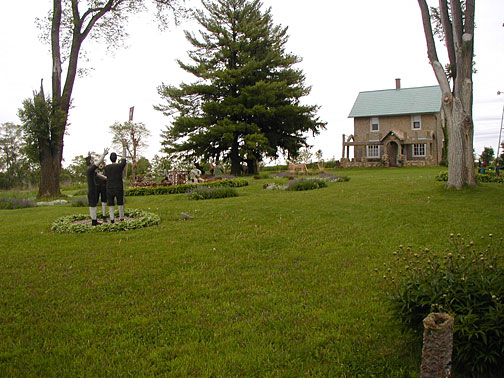 Austrian immigrant Nick Engelbert spent his adventurous youth travelling widely and trying different occupations before eventually settling down as a dairy farmer on a hilltop with a grand view just west of the town of Hollandale. A 1930 visit to the nearby Dickeyville Grotto inspired him to think about decorating his home with concrete and broken glass. After his four grown children had left home a few years later, he built a porch trellis on the front of his house and covered it with mosaics in patterns designed by his wife Katherine. He built a large concrete American eagle and Austrian double-headed eagle to mount on the front of the porch to honor his home and birthplace. In the next fifteen years he continued embellishing the yard with statues of animals and figures inspired by fairy tales and the ethnic heroes of his neighbors.
In his 70s, Engelbert was no longer able to work on his garden sculptures so he took up oil painting which provided much enjoyment for him. He passed away on his 81st birthday in 1962.
By the 1980s the house was dilapidated and the garden in even worse shape. Fortunately, the Kohler Foundation rescued the site and restored the garden. Some of the sculptures were too deteriorated to be restored and were instead replaced by modern recreations. The house now displays a small museum about the garden as well as an art center serving the local community.
Directions to and hours of the garden are at nicksgrandview.com.