---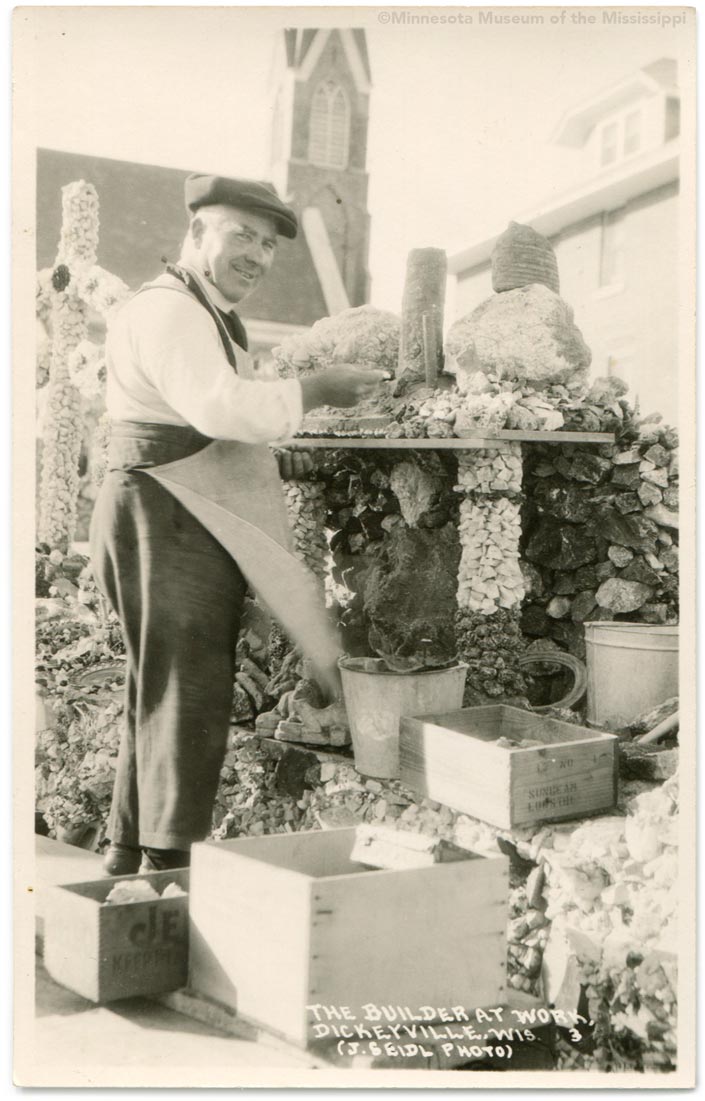 In 1920, Father Mathias Wernerus started building his first works in concrete and stone for the benefit of his parish. He took his duties as caretaker of Holy Ghost Parish literally, as he built one shrine after another on the church property, he viewed his efforts as a struggle to return his lost sheep to the fold. With the help of his cousin Mary, who followed him from Germany to Wisconsin, and donations from many parishoners, Father Wernerus constructed a roadside tourist attraction that drew thousands of visitors per year even before it was fully completed in 1930.
While the Dickeyville grotto is not the largest such structure in the Midwest, or even the earliest, it has continually inspired visitors to go home and make their own creations. Perhaps it is the humble nature of the materials set in the stone, everything from crystals, stone and petrified wood, to broken glass, commemorative china and seashells. Every surface of the grotto is covered with bright colors, patriotic and religious symbols, even whimsical details such as decorative perfume bottle stoppers. A visit to the grotto is an experience that engages the visitor on many levels, from the overt symbolism of the designs down to the simple delight of delicate flowers made of glass shards set on end in concrete. It is no wonder that the Dickeyville grotto can be traced as the inspiration behind many other sites from the 1930s such as Mollie Jenson's Art Exhibit, the Wegner Grotto, and many other smaller constructions in Wisconsin as well as modern-day mosaic works.
The Dickeyville Grotto is located on US 151 in Dickeyville, WI.