Minister's Tree House - Crossville, Tennessee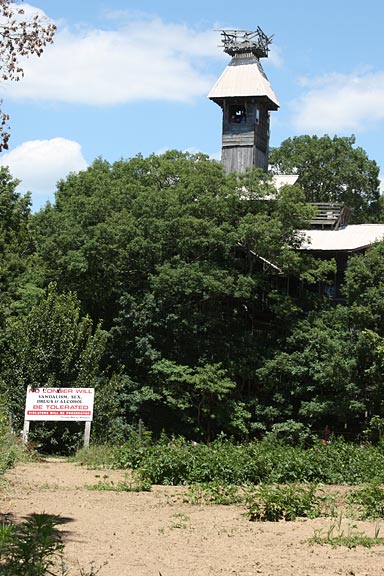 This 10-story treehouse is nearly 100 feet high and said to be the largest in the world. In 1993, Horace Burgess received a vision from God to build an enormous tree house. The vision was an image of the completed structure, for which God promised an endless supply of materials. The wood for the tree house was salvaged from derelict barns and gleaned from construction debris, enough to build a vast labyrinth of weathered wood, staircases and balconies. The uninhibited vertical ambition of the construction recalls that of Bishop's Castle in wood instead of stone and wrought iron.
The larger part of the tree house, which Burgess calls "The Way" is built around six oak trees. Several staircases and passageways lead up to a soaring chapel on the third floor, with seating for a hundred or more worshippers on multiple lofts and tiered balconies. A rough-hewn lectern holds a bible opposite an incongruous basketball hoop. On Sunday afternoons Burgess holds impromptu worship services for visitors as the minister of the tree house.
Connected to the sanctuary on the side is a taller section of the tree house built around a large white oak tree. From the ground, a spiral staircase walled with construction scraps climbs higher and higher, seven and eight stories of stairs getting steeper with each flight and leading to a tower which emerges from the tree top with a view out over the surrounding forest and down below a field with an image of the cross and the letters "JESUS" spelled out in flowers. The tower sways gently with the footsteps of the many visitors plodding ever upwards, ringing chimes made from welding bottles up above in the belfry.
Burgess started the tree house in 1993, working in his free time off from his day job as a landscaper and with occasional help from friends. He kept no record of the amount of wood which went into the structure, but knows that at least 258,000 nails hold it together. A caretaker of the treehouse lived next door, but after his death in 2004, the property was neglected. Theives stole the copper wiring for the treehouse lights. Vandals painted graffiti in the structure and partyers snuck in at night for illicit activities.
In the last several years, Burgess and family members have made more effort to guard the treehouse against hooligans and troublemakers and turn the treehouse back into a testament of faith. Hundreds of visitors each day climb the wooden stairs to the top of the tower, where they will look out and just as Horace Burgess intended, see Jesus in the garden.
More articles about the Ministers Tree House:
USA Today, July 29, 2007
Knoxville Metropulse, September 22, 2010
Johnson City Press, June 10, 2011