---
Ak-Sar-Ben Gardens - Bay Lake, Minnesota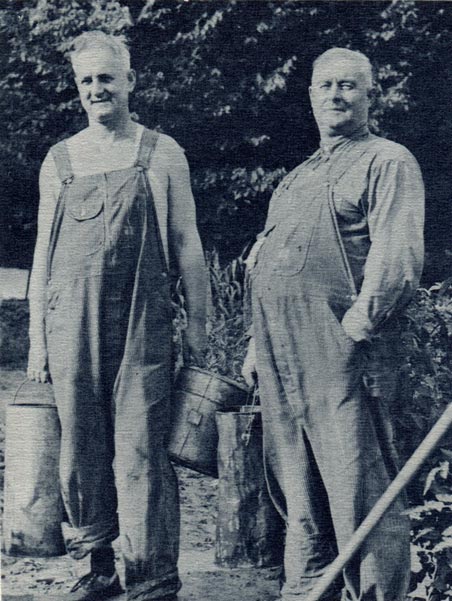 In the summer of 1918, 31-year old Arnold Vogt (left), his 42-year old brother Hugo (right) and their parents travelled from Omaha, Nebraska to a cabin near Deerwood, Minnesota for a northwoods fishing vacation. The brothers' aunt and uncle had owned a farm in a nearby township since 1892, so the family was likely not unfamiliar with the area, but that fishing trip made a great impression on the two brothers. In Omaha the brothers had run a small family-owned factory making mincemeat since the 1910s, but by the early 1920s they became real estate investors. Their new career may have allowed them more freedom to travel. In 1924 Hugo and Arnold returned to Deerwood and purchased property on the north shore of Long Lake. Their sister and her husband moved to a farm in the area around this time as well, but for the brothers the little lakeshore plot would become a summer home only, a leisure retreat from the workaday world in Omaha where they returned for six months every winter.
The bachelor brothers built a cabin on their property and devoted their free time to landscaping the grounds around it. Unlike their house on a small city lot in Omaha, the property allowed room for Arnold to plant gardens and cultivate flowers. Hugo added benches and arbors to beautify the garden. The brothers christened their lakeside retreat "Ak-Sar-Ben" or "Nebraska" spelled backwards. In time neighbors and passersby began dropping in to visit the pleasant garden with its showy flowers that the brothers created, but the novelty of the tame fish in the lake made the place a real home-grown tourist attraction. The brothers reportedly enjoyed having visitors and each year planted more flowers and built more concrete garden decorations to add interest to the property. By the summer of 1939, 40,000 visitors tramped the garden paths, fed the fish and signed the guest register.
The site is bounded by Tame Fish Road and a steep hill on the north and a gentler slope to the shore of Long Lake (later renamed Tame Fish Lake). The hillside is covered by thick trees, which may have originally covered the level ground surrounding the house when the brothers first purchased the property. Arnold spent years adding organic materials such as manure and marsh grass to the soil of his flower beds to improve the sandy soil for gardening. The original access to the property was from a driveway and parking area at the east end.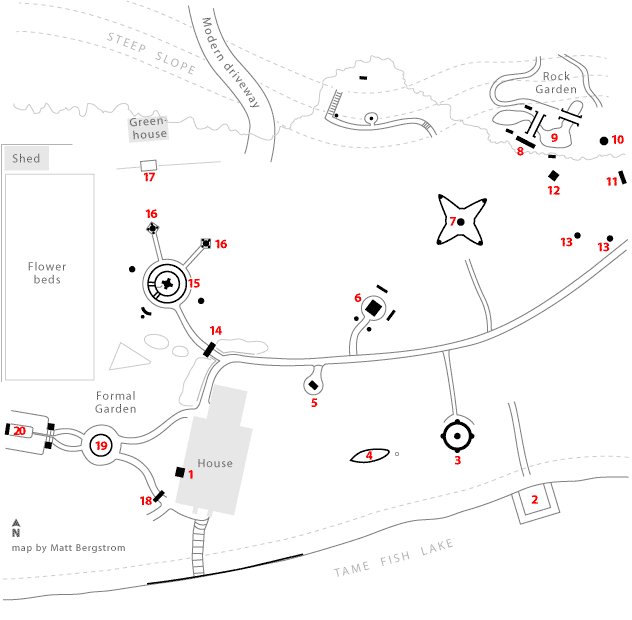 Key
Boat-Shaped Planter
Raised Planter
Rock Arch
Rock Arch
References and Links to Ak-Sar-Ben