---
The picturesque little town of Fountain City was founded in 1839 on a narrow bit of land between rocky bluffs and the Mississippi River held back by Lock & Dam 5A. The town is just blocks of steep streets, with a few dozen houses built up and down the hillside. With mighty Mississippi floods on one side and occasional falling rocks from the cliffs above (see the nearby "Rock In the House"), this seems an unlikely place to build a town.
John and Mertha Mehringer were born here in 1880 and married in 1907. The couple farmed nearby before retiring in 1926 and moving to a house in town on Jefferson Street. The couple built a terraced rock garden on the steep side lawn beside the house between 1933 and 1935. The couple enjoyed gardening, and the terraced levels originally held fruit trees and bright flowers. Two giant cacti in pots once stood on either side of the path. The Mehringers dragged them indoors whenever the weather turned cold.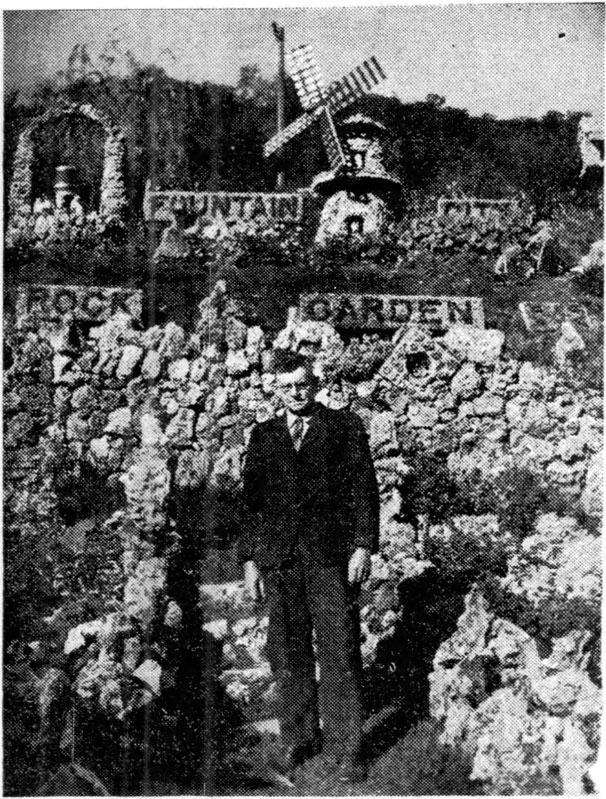 A 1941 La Crosse Tribune newspaper photo shows John Mehringer in the garden from nearly the same vantage point as the color photo from 2002. Behind Mehringer, several stone steps lead a path up to the middle terrace, but the small and steep space appears to be more of a multi-level rock and sign display than a garden to wander easily.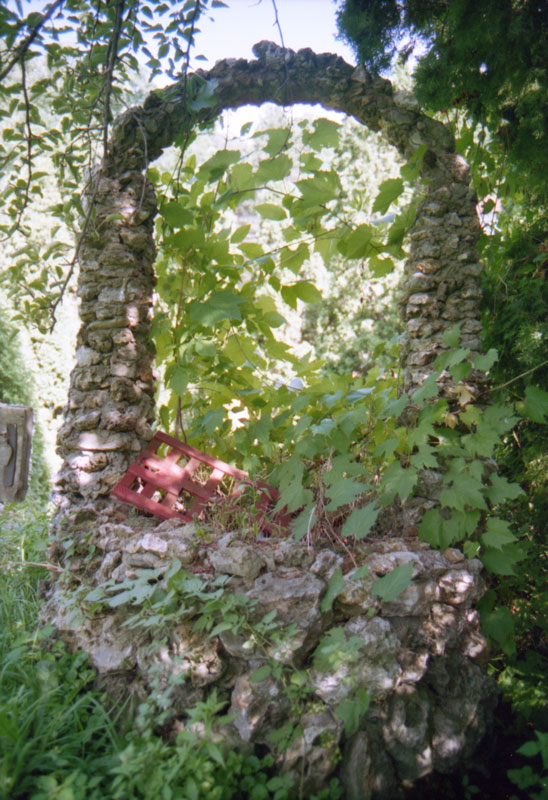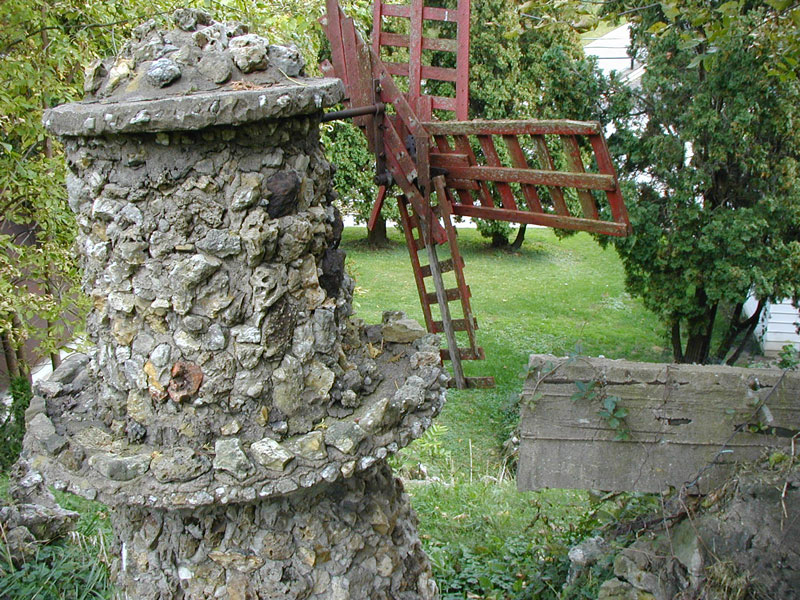 A wishing well, windmill and bird house look down from the top terrace. The Mehringers built the structures from concrete and rocks gathered from the nearby bluffs, as well as a few pieces of petrified wood brought back by friends as souvenirs from the South Dakota Bad Lands. An impression of the boards of the mold can be seen on the back of the sign at right, revealing a bit of how some of the pieces were cast as slabs of concrete.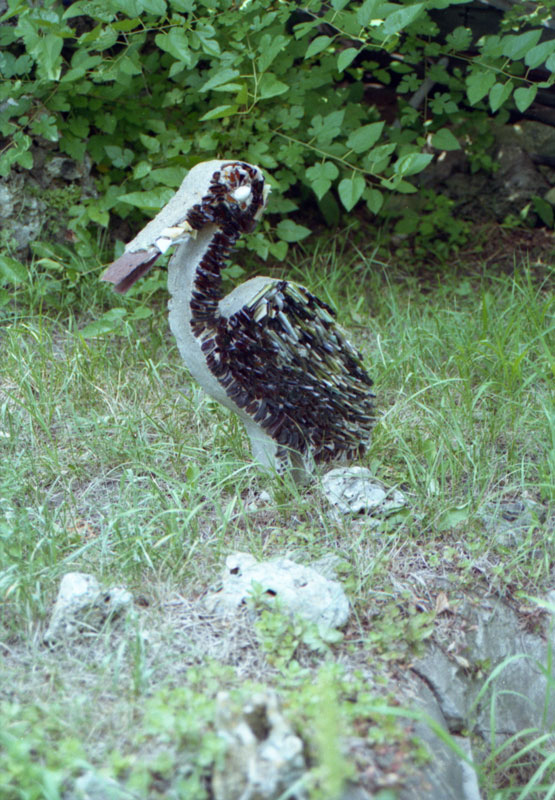 At the base of the hill there is a small basin which was once a lily pond crossed by a miniature arched bridge. A small glass-embedded stork looks over the lily pond. Newspaper accounts describe the garden having fountains as an additional water feature.
At the entrance to the garden by the sidewalk, two formal pillars encrusted with glass shards form a gateway. Blue glass came from Bromo-Seltzer bottles, white from liquor bottles and brown from beer bottles.
The dense texture of the tightly-packed glass shards set on end into the concrete resembles the Glass Church at the Wegner Grotto, which could mean the Mehringers may have visited that attraction. Dense whorls of colored glass match the real blooms which once grew in the garden.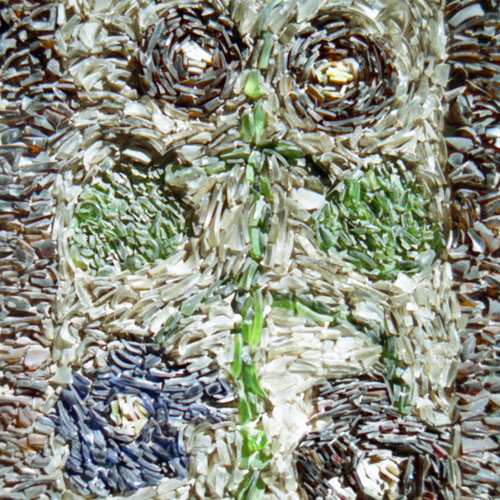 The Mehringers sold the house and garden in 1964 to move to a nursing home where they lived their last years together. John passed away there at age 92, and Bertha at 96.
The Fountain City Rock Garden structures were removed from the hillside in 2007 and relocated to a nicely landscaped area next to the Prairie Moon Museum.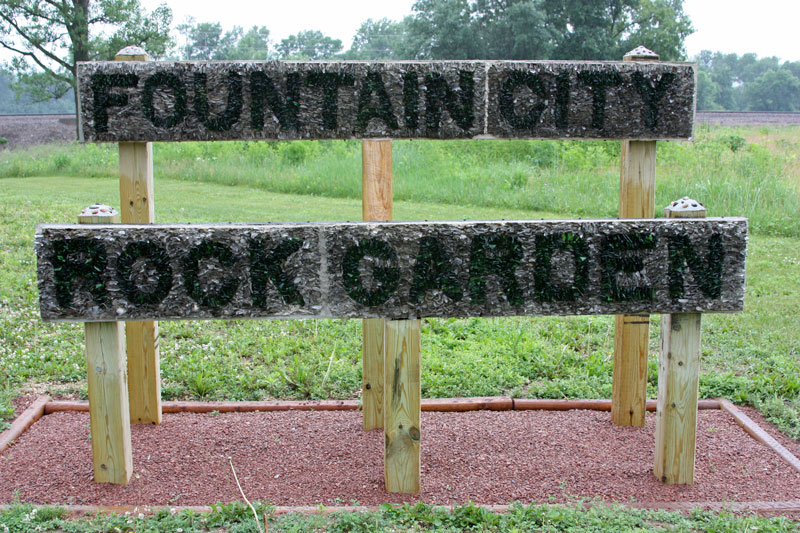 References and Links to the Fountain City Rock Garden