Blueberry Pancakes
Granny's Kitchen
362 Central Ave
Hot Springs, Arkansas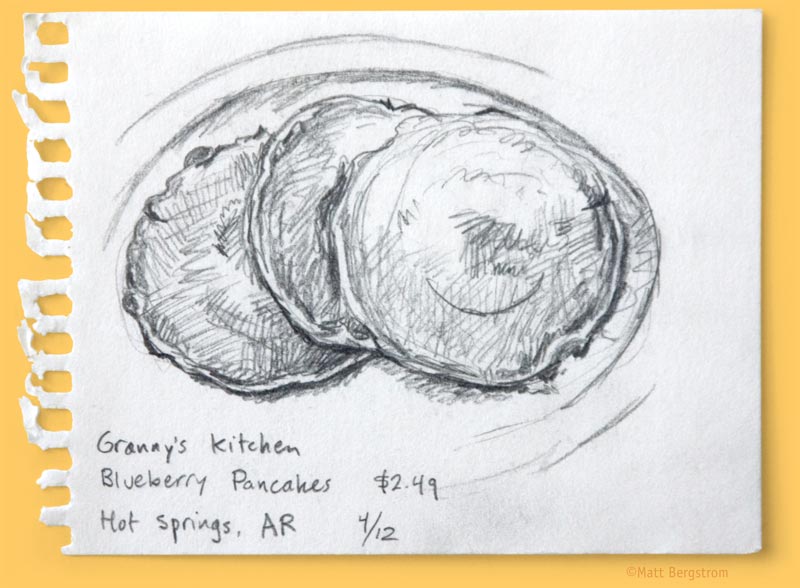 Granny's Kitchen was originally located at 332 Central Ave across from the Superior Bath House in a little storefront with Art Deco-style octagonal windows. The National Cafe opened here in about 1920 or shortly before. John Orfanos and his wife Nettie purchased the business in 1927 and the family ran the place for 42 years. The little cafe sat 30 diners and was open 24 hours a day during the 1940s to 60s. Seafood and steaks were a specialty, with lobsters on ice in the front window.
In 1946, Mike Abdo, who may have become a part owner of the restaurant the year before, was called from the cafe to talk to someone outside. Les Baker was waiting in a parked car and gunned Abdo down. At the trial Baker claimed Abdo had attacked him with a knife and he was released on self-defense. The murder was rumored to be related to gambling losses, at a time when illegal gambling flourished in Hot Springs.
Bill and Mary Kilgore purchased the business in May 1973 after previous experience managing a pancake house in California and a truckstop in Arizona. "Paw Paw" Bill did all the food prep and baking, while "Granny" Mary ran the dining room and their children did everything else to keep the place running for breakfast, lunch and dinner and all night on Fridays and Saturdays. Bill's blackberry cobbler and hot apple dumplings became their most famous menu items. The restaurant was renamed "Granny's Kitchen" in 1976, though even today the cafe's original name lingers on.
In 1998 Granny's Kitchen moved to a larger location down the street at 362 Central Ave.
"Granny's Kitchen," Hot Springs Sentinel-Record, July 31, 1990