Three Jumbo Hotcakes
Crown Diner (now Crown Railroad Cafe)
3300 E. Rte 66
Flagstaff, Arizona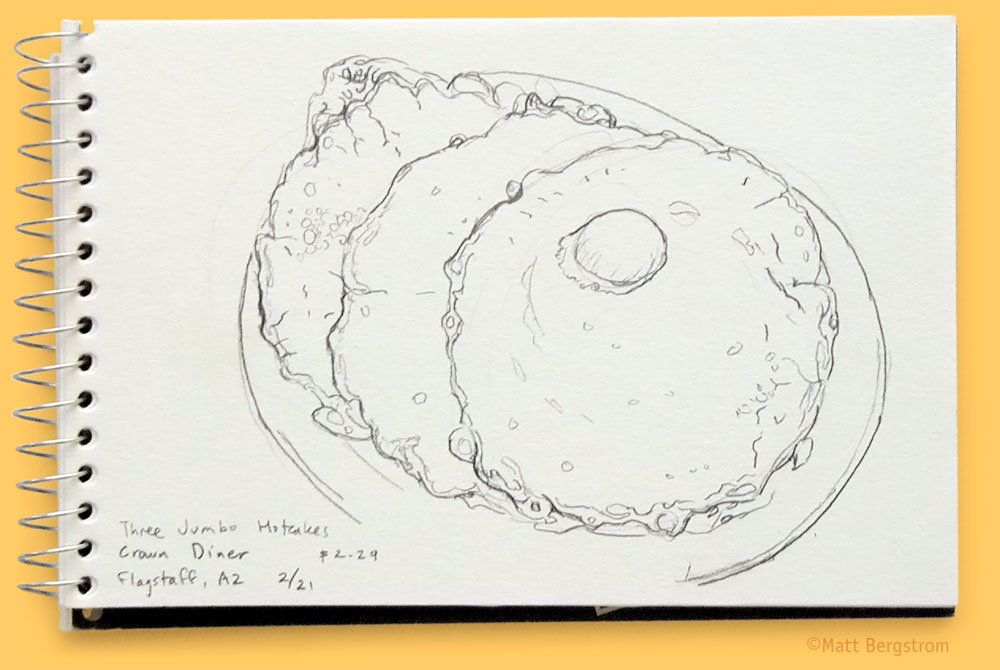 The Crown Railroad Cafe was built in 1963 by Don and Evie Richardson as a coffee shop attached to the 41-room Crown Motel. The restaurant features an angled overhanging roof and rugged fieldstone base below a wide row of windows looking out on Route 66, like a Los Angeles Googie-style coffee shop transported to high-country Arizona.
In contrast to the modernist architecture is the Museum Club next door, built in 1931 as the "largest log cabin in the world" to house a roadside museum of taxidermy and Old West artifacts. The museum only lasted five years but then the kitschy building became a night club and dance hall. In the same year that the Crown Motel was built, Don Scott, a former steel guitar player with Bob Wills & The Playboys, bought the Museum Club and turned it into a country music venue which hosted Waylon Jennings, Willie Nelson, Wanda Jackson, Barbara Mandrell and many other big and small country acts in the late 1960s. After several changes of ownership the club is still famous as a country music dance hall. How many tired dancers out on the hardwood must have crashed at the motel and then stumbled in for breakfast at the coffee shop over the years? Perhaps a few of the musicians too must have enjoyed a plate of pancakes here before getting out on the road again.
In 1991 the Crown Motel joined the Howard Johnson hotel chain. The coffee shop renovated in 1996 and renamed as the Crown Railroad Cafe. Railroad memorabilia and toy trains decorate the walls and a long train mural is installed above the front windows facing the road.