Two Hot Cakes
Joe & Aggie's Cafe
120 W. Hopi Dr.
Holbrook, Arizona
(Closed 2020)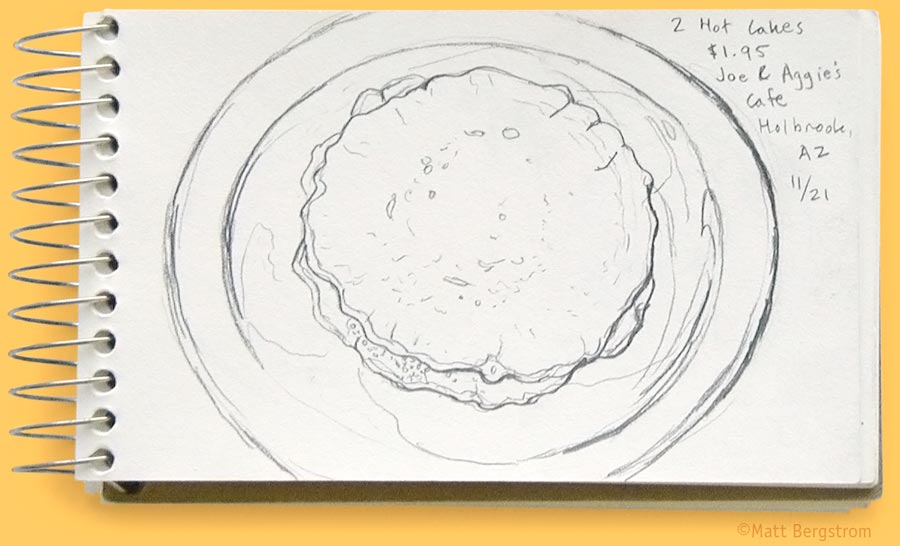 Tom Smithson opened the Cactus Cafe here in 1943 in a little cinder block building on Route 66 in downtown Holbrook. Joe and Aggie Montano bought the business two years later. The Green Lantern Cafe a block west may have gotten all the attention from travelers and guide books in those early years, but over time Joe and Aggie's became known for its spicy red and green chili salsas made from a family recipe and delicious chile relleños.
Stanley Gallegos married Joe and Aggie's daughter Alice in 1958 and opened a barbershop next door and eventually he and Alice would take over the restaurant. In the 1950s and 60s Holbrook boomed with new businesses catering to travelers heading east or west on Route 66 looking for a place to stay or a place to eat. Businesses built taller signs or more eyecatching architecture to compete for attention in the brief moments when a motorist passed through town.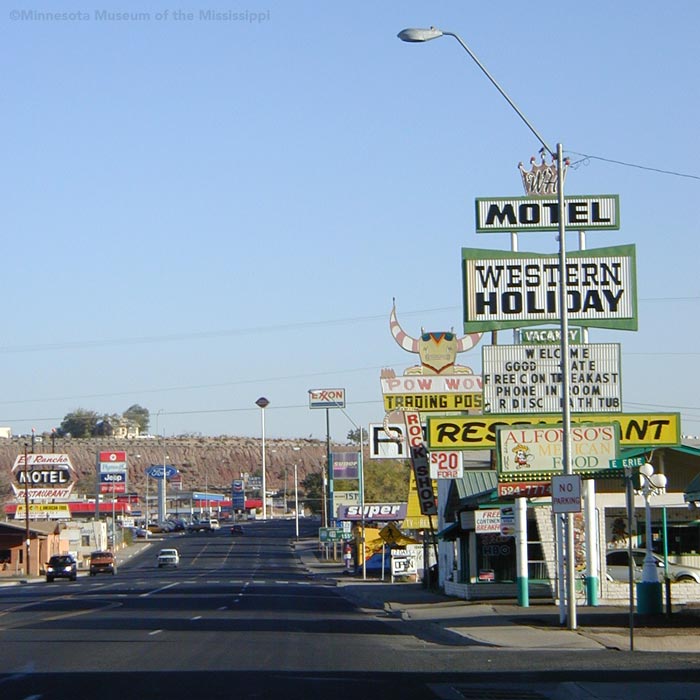 The unique Wigwam Motel a few blocks west of Joe and Aggies was built in 1950 and the colossal kachina sign of the Pow Wow Trading Post was put up in about 1959. In the midst of all the excess of advertising, little Joe and Aggies sported only a modest neon CAFE sign and twin tin Coca-Cola roundels. Painted portraits of a woman with peineta and man in sombrero were added later.
The segment of I-40 bypassing downtown Holbrook was completed in 1980, sending travellers on past without stopping. Many bypassed towns began efforts in the 1990s to entice tourists off the highway. The much-photographed mural map of Route 66 on the side of Joe and Aggie's was painted about this time.
Joe and Aggie's Cafe became more widely known after the 2006 Disney movie Cars. The founder of Radiator Springs, Stanley, is reportedly inspired by Stanley Gallegos, and he was happy to pose with tourists and Route 66 pilgrims over the years. After he passed away in September 2020, the restaurant closed.