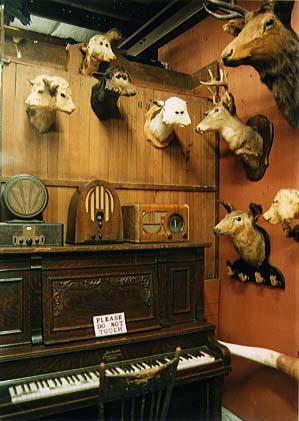 Valley County Pioneer Museum, Glasgow, Montana
The Stan Kalinski Wildlife Collection

"Don't miss the fantastic exhibit of wildlife mountings, artifacts, saddles, horns, antlers, and furs from the Stan Kalinski Collection, handsomely displayed in a specially designed 30-foot by 70-foot room.
"You'll see the beautifully ornate and historical Buffalo Bill Cody bar which still sports a bullet hole and lead slug reminiscent of the wild west; the attractively mounted head of the buffalo butchered for a celebration honoring President Franklin D. Roosevelt during his visit here in the 1930's; the albino mule deer, the white fox, the extinct Audubon sheep, 20-foot snake skins, record size elk, and many more varieties of birds, mammals, and reptiles."
This county museum features a small collection of mounted game heads mixed with the usual county museum bric-a-brac, such as wagons, old bottles, and wedding gowns from local residents. Most notable are the series of two-headed calves seen above.
U.S. Highway 2 at 8th Ave
Glasgow, Montana
Open Memorial Day to Labor Day
Free
(406) 228-4495