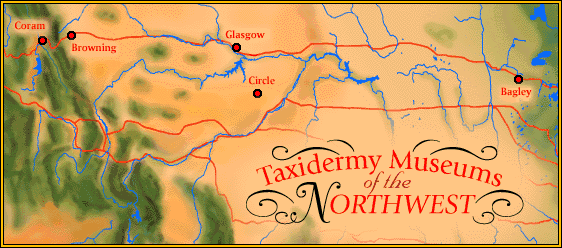 Taxidermy Museums of the Northwest
featuring
Bagley Wildlife Museum, Bagley, Minnesota
McCone County Museum, Circle, Montana
Museum of Montana Wildlife, Browning, Montana
Museum of North American Wildlife, Coram, Montana
Valley County Pioneer Museum, Glasgow, Montana
---
The Great Northwest, those thinly settled lands from northern Minnesota west to the Montana plains, were some of the last areas in the continental U.S. to be settled by industrialized America. The coming of the railroad, immigrant settlement, Indian wars, the retreat of the grizzly from the plains and the slaughter of the buffalo, these scenes and events that greatly altered life in the Northwest Territory have happened within the recent 150-100 years. When the last old-timer fades away, how will we remember how it was in the old days? How will we hold on to the grandness of these events and their mythological significance to the American West?
The common sight of taxidermy museums in the Northwest provides a place to visit the ghosts of those old times. Like other captured memories and mementoes, the stuffed and mounted animals are manifestations of the passage of time and incessant changing of the background world. They are signs of the inevitable disappearance of the spirit despite the stubborn resistance of the preserved body to decay. What spirit animates the buffalo when the taxidermist finishes his artwork and freezes the animal forever in time?
In the posed and stylized relics of these afternoon tourist stops, you may glimpse a fleeting presence of this spirit of the wild west, a lingering ghost which irreversibly separated from our the live world at a moment in the not-too-distant past. The stiff skins of these animals are the singular representatives of this past. These lucky ones alone were chosen to live outside of time while their brothers and sisters rotted away long ago.