Pancakes with Sausage
Krazy Katie's Kountry Kooking at Hotel McArthur
101 East Main Street
McArthur, Ohio
(Closed)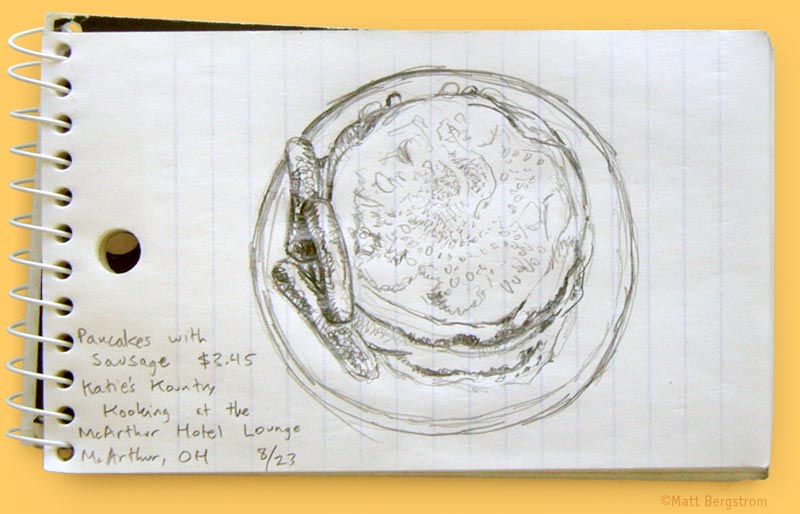 The Hotel McArthur was built in 1839 and is the oldest structure in Vinton County. The hotel has long been one of the smallest in Ohio with only 12 or so rooms and a lobby restaurant. The business has been known by various names over the past 180 years, such as the Hulbert House in the 1860s and Lantz-Hamilton Hotel in the 1930s. The brick building has been modified numerous times. The original mansard roof burned in the 1890s. Paul Hogan bought the building in 1946 and renamed it the Hotel McArthur. Hogan sold the building to Katie Matteson in 1994. Matteson had previously run a small bar along the highway south of McArthur called "Krazy Katie's". The quirky little hotel and restaurant bar became a popular rest stop for hunters and cyclists, and even the setting for a murder mystery.
The hotel closed in the mid 2010s. In December 2021, Matteson sold the building to the Vinton County Convention and Visitors Bureau which plans to restore the long-lost mansard roof and return the historic hotel to its 1840 appearance.
"Hunters find haven in southern Ohio town," Coshocton Tribune Dec 6, 1998
"Vinton County Convention and Visitors Bureau purchases Hotel McArthur, plans renovations", Vinton-Jackson Courier, Dec 22, 2021