Pancake Sandwich
Eel River Cafe
801 Redwood Drive
Garberville, California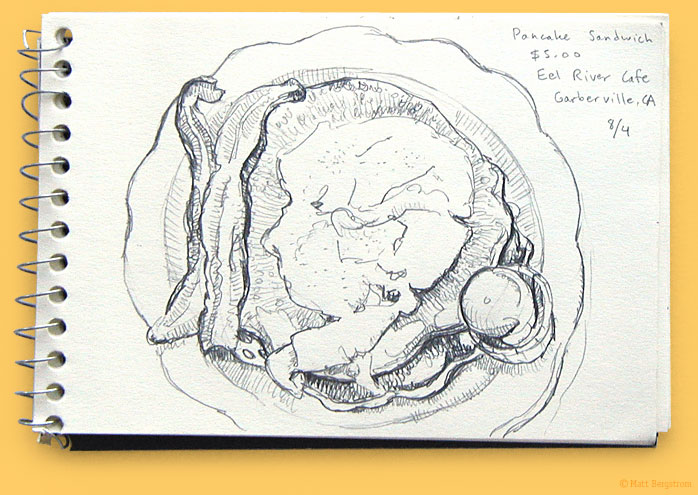 The Eel River Cafe dates back to the early 1930s, or possibly as early as 1927. Travel to Humboldt County and Garberville had just been made easier by the construction of the Redwood Highway (later to become Highway 101) through the center of town a few years earlier. The highway was still a dirt road through Garberville until at least the 1930s and tourists on a rugged journey probably enjoyed a stop at the little cafe in the center of Garberville.
In 1926 the business and tourist organization promoting the new road was renamed as the Redwood Empire Association, giving a new name to the region. The same highway which brought tourists to gaze in awe at the redwoods preserved along the Avenue of Giants just north of Garberville also brought logging companies which cut down as much as 95% of the redwoods on the lands away from the highway and out of view of tourists.
Dexter "Deck" and Pat Nicholson ran the cafe for a time in the late 1940s. In the early 1950s they sold the business to Clark Hodge, who ran it with his wife Judy. Hodge kept a stock pot of vegetables and turkey trimmings simmering 24 hours a day which was the basis for soups, gravies and sauces beloved by customers. The restaurant was a favorite early morning breakfast spot for fishermen in winter. The iconic neon sign with a cartoon chef flipping a pancake was put up in about 1952, though the top part of the sign may have existed earlier. After several decades, Hodge sold the business to Ed & Iris Prindle.
Since the 1970s Garberville has been the center of Northern California's marijuana industry rather than logging, but the little cafe with its taxidermied trout above the counter remains much as it has been for decades.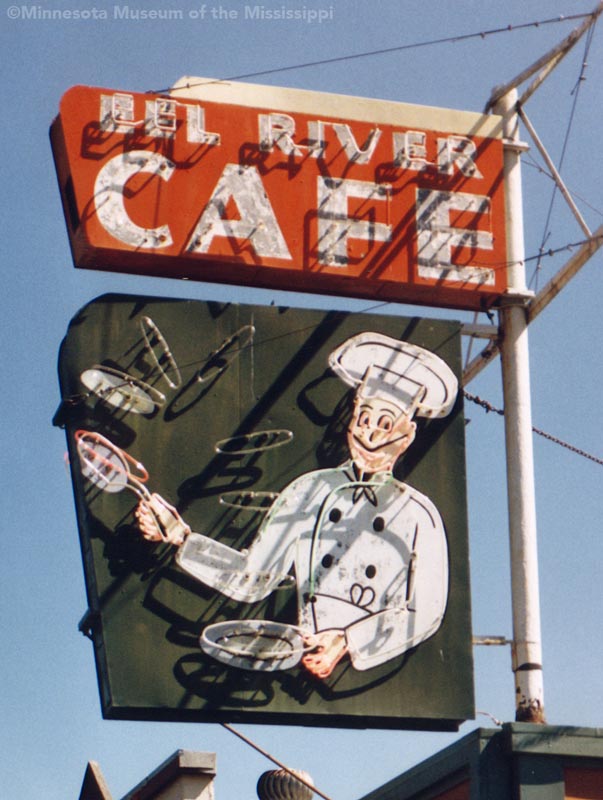 A Sign of the Times: Memories of the Eel River Cafe - Redheaded Blackbelt, Feb 12, 2020.
Pancake Signs - Roadside Architecture.com