Short Stack, Scrambled Eggs
Hi! Lets Eat
400 E Ocean Ave
Lompoc, California
(Closed 2006)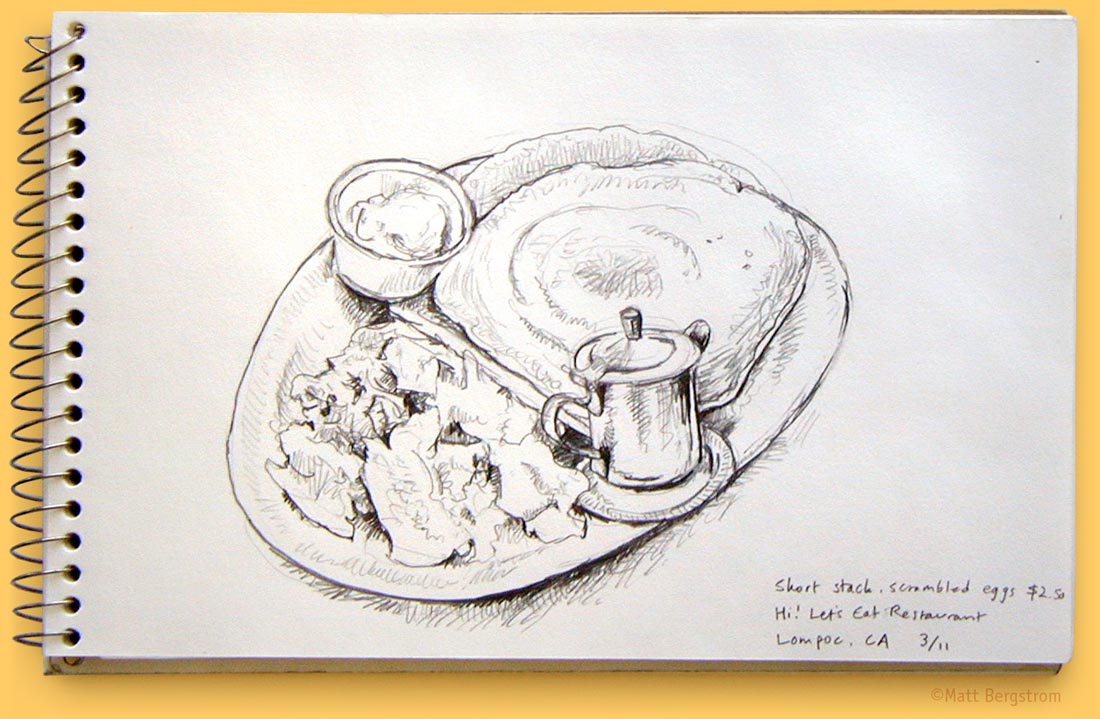 Owner-chef Vince Hakes opened this diner with its insistently friendly name in March 1960. The restaurant was first known a simply "Hi Restaurant", which was perhaps a play on its location along "Hi-way" 1 on the southeast edge of downtown Lompoc. The sign for the restaurant, with its off-beat mix of old-fashioned wood-type letter forms and Chippendale top combined with jaunty angled text below, gradually became a local landmark. The diner was open for breakfast, lunch and dinner.
Tino Largura and Louis Strathakis took over management in 1964, succeeded by Neal Elms and Warren Bottroff in 1967. In the mid 1980s, retired police officer William Blackford purchased the establishment. Around this time the restaurant's name grew to include its slogan and became "Hi! Let's Eat Restaurant".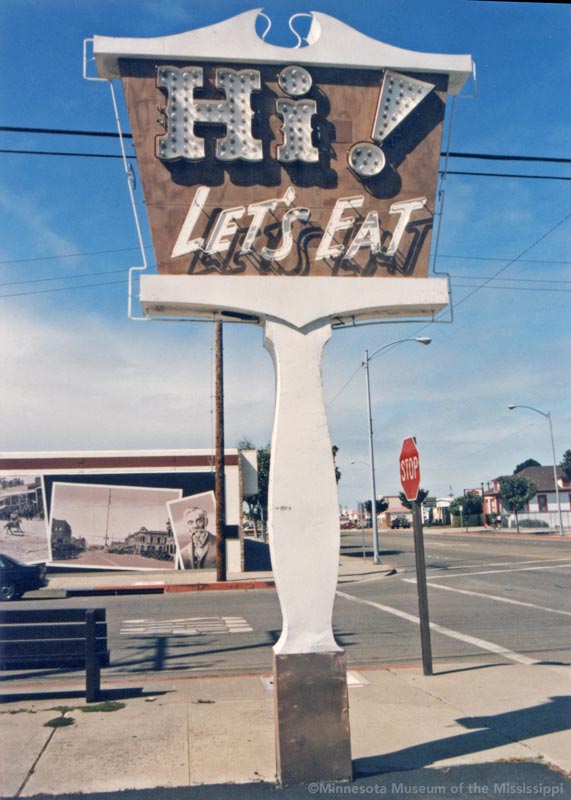 The diner closed in 2006 and the space was taken over by the Jalama Beach Cafe. The vintage sign out front was non-specific enough that it worked for the cafe so it was left untouched. When the cafe closed in 2017 a Starbucks franchise bought the property with plans to build a drive-thru and no interest in preserving the sign. Locals who loved the sign managed to save it and had it moved it to the grounds of the Lompoc Valley Historical Society. The sign is currently undergoing restoration but will eventually be relocated to the American Host restaurant just a few blocks away from its original location, so that it may continue to attract passing motorists in search of a good Short Stack.
"New Restaurant," Lompoc Record, Mar 21, 1960
"Lompoc's Landmark 'Hi! Let's Eat' Sign To Get New Home", Noozhawk, Feb 13, 2017
"Hi! Let's Eat: A sign for the times," Lompoc Record, Apr 30, 2017