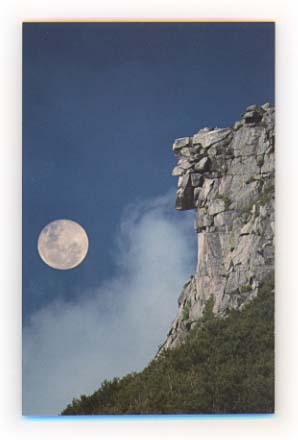 Reverse:
Old Man of the Mountains
Franconia Notch, N.H.
The State symbol located 1200 ft. above Profile Lake. A natural profile from the cliffs of Canon Mtn., 5 layers of rocks make up the profile, 40 ft. high and 25 ft. wide.
Publisher:
North Country Photos, Norway St., Berlin, N.H. 03570
MNM#01-01046
The most famous of all rock faces, which sadly collapsed on May 3, 2005.
Popularized by Nathaniel Hawthorne in his short story "The Great Stone Face." It is New Hampshire's state symbol, reproduced on quarters, licensce plates, stamps, decorative china, and hundreds of postcards. Trail directions at www.gorp.com.

N 44° 09.632', W 71° 41.001'
Other views of this formation: