---
The Museum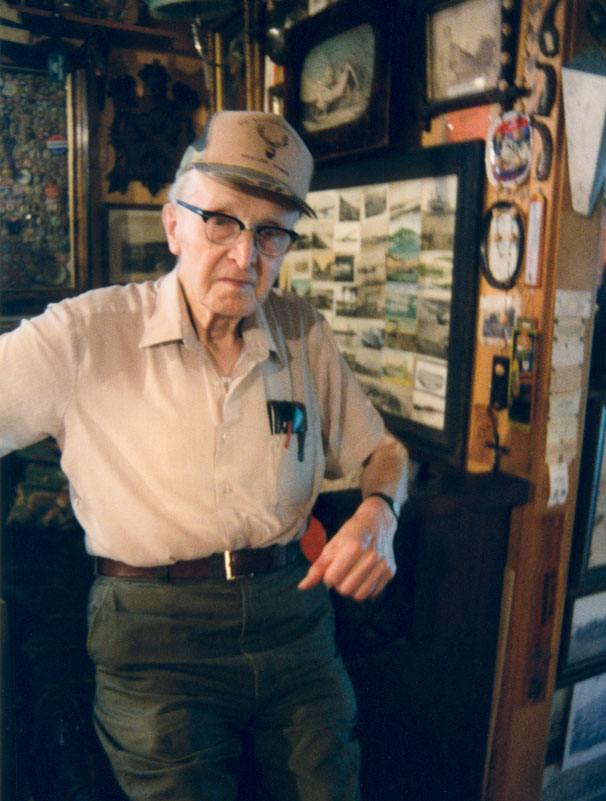 Entering the museum, Joe is ready to take us on a tour. Passing a small room used as an office, he might point out some of the items hanging from the ceiling, such as one-handed clappers and homemade canes, but the tour begins in earnest in the dimly lit main room of the museum.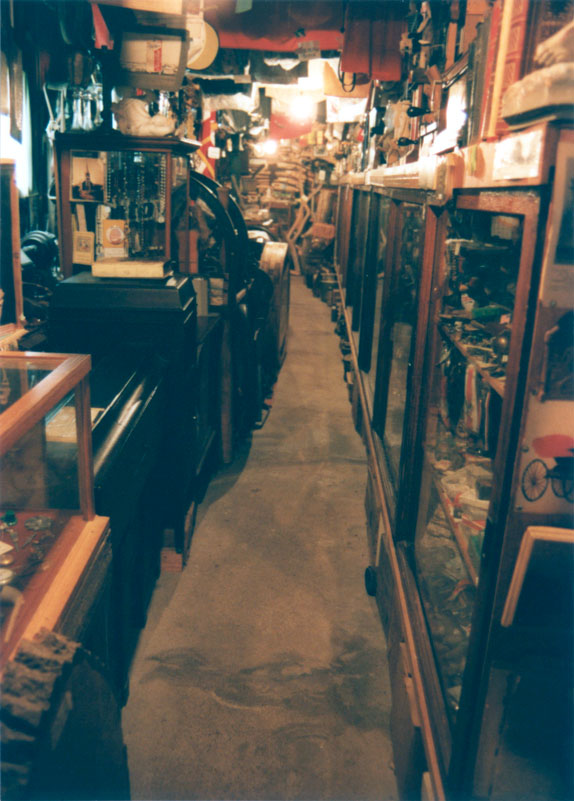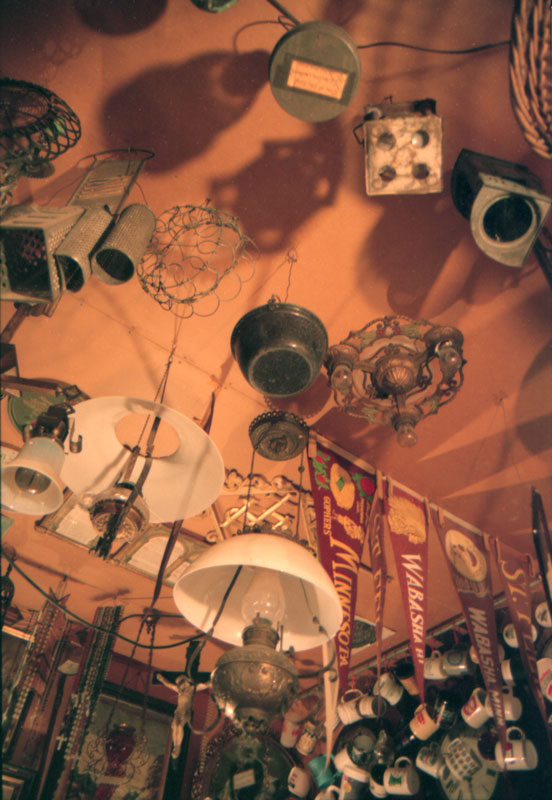 There are a million things to see, but no time for tarrying as Joe points out the notable items with his cane. We move around the room in a counter-clockwise direction. "Now these here are mustache cups," he invariably begins the tour, directing us to a handful of teacups with sipable rims. All around the cups, the shelves are crowded with items large and small. Some are old and unusual antiques, yet mixed in are brand new, mass-produced bricabrac, loosely gathered according to themes such as presidential items, Wabasha history, farming, famous events, beer cans. Some of the items are carefully labelled with their stories, others are simply hung by thumbtacks or piled on top of one another.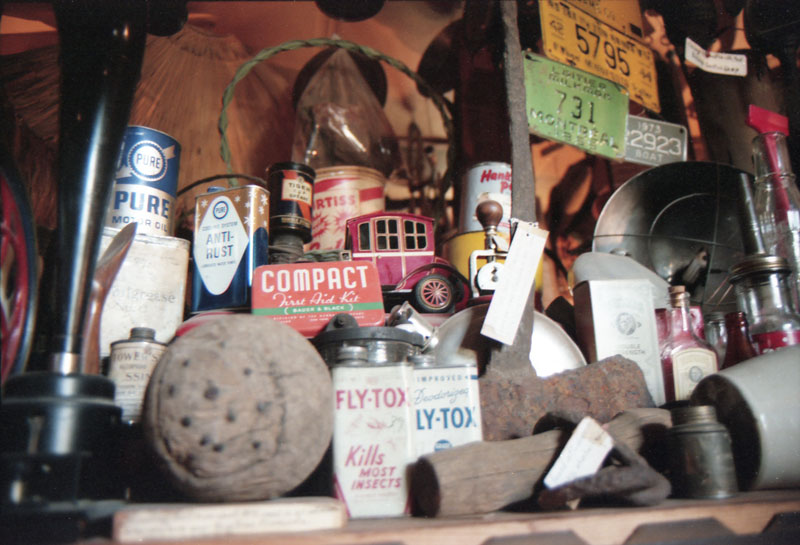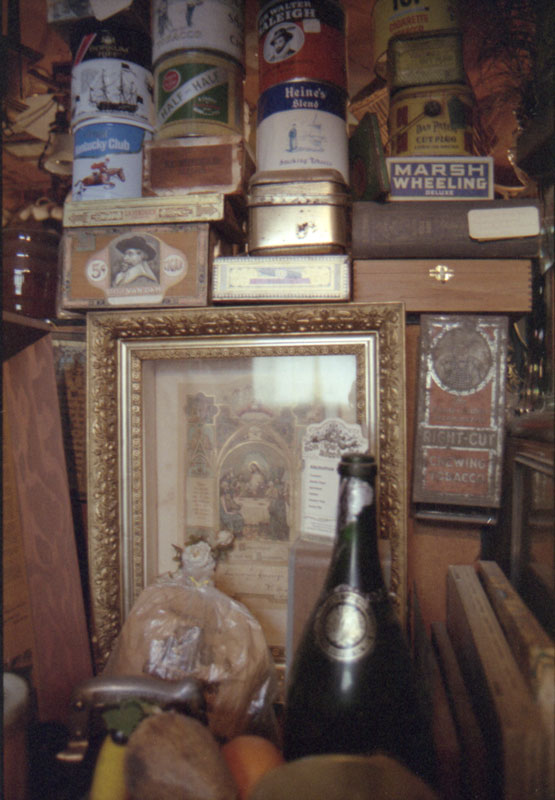 Joe makes sure to alert us to the new items in the collection, proud of the many visitors who have donated to the museum. Most of the older items were acquired when he worked as a milk delivery driver. Neighbors heard that he was interested in old unwanted things, and he'd pick them up on his rounds. Although Joe doesn't seem to have been too discriminating in his collecting, the museum is an amazing little ark of local history that would have otherwise been tossed in the dump.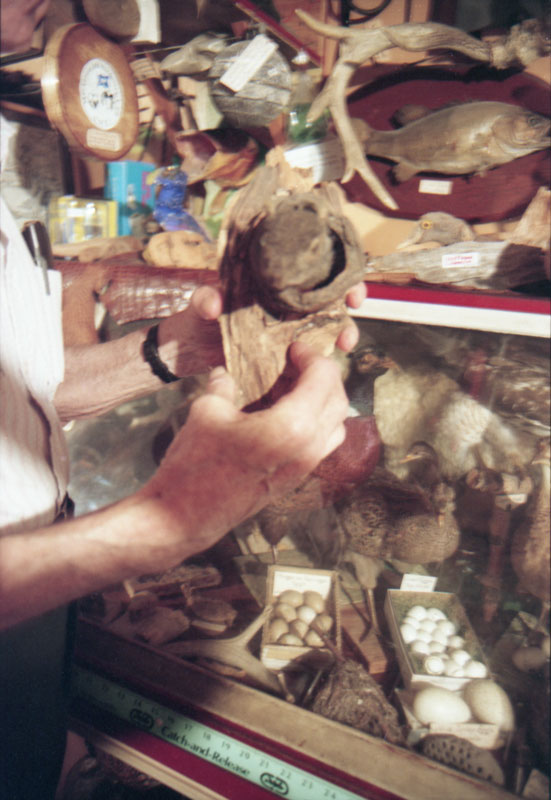 Don't fall behind! Joe has moved on past the antique seed planters and washtubs. Above the bird egg collection, he'd like to point out some of his taxidermy mounts. In the photo he demonstrates a stuffed squirrel on a wire that peeks out of a knothole when wiggled. And he'll tell you about a dog hit by a car in front of the body shop (they saved the body in a freezer for him to pick up), and the cat that was killing his chickens... until Joe caught him coming out of the wood pile! There's a framed diploma from the Northwestern School of Taxidermy (traded a gun for the complete set of books), fish, antlers and a few birds.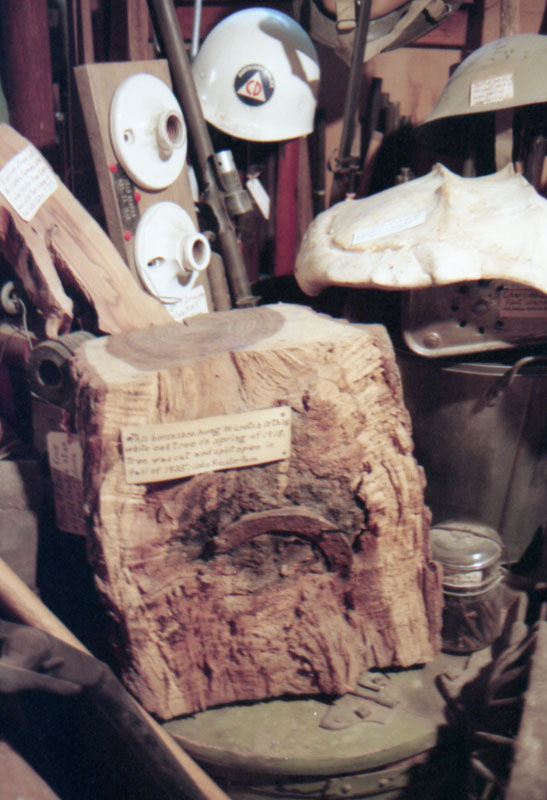 Now we've rounded the bend. There's a tree grown around a horseshoe, and several unique logs. A millstone. Joe doesn't mention some of the more exotic items, but he stops at a shelf of miniature bottles containing sand and soil from faraway landscapes. I don't imagine he ever visited any of these places, but he seemed mighty impressed that he had a tiny bottle of sand from Death Valley, or pebbles from the base of the Tower of Pisa. No doubt the same enthusiasm for faraway geography went into the polyliths outside the front door.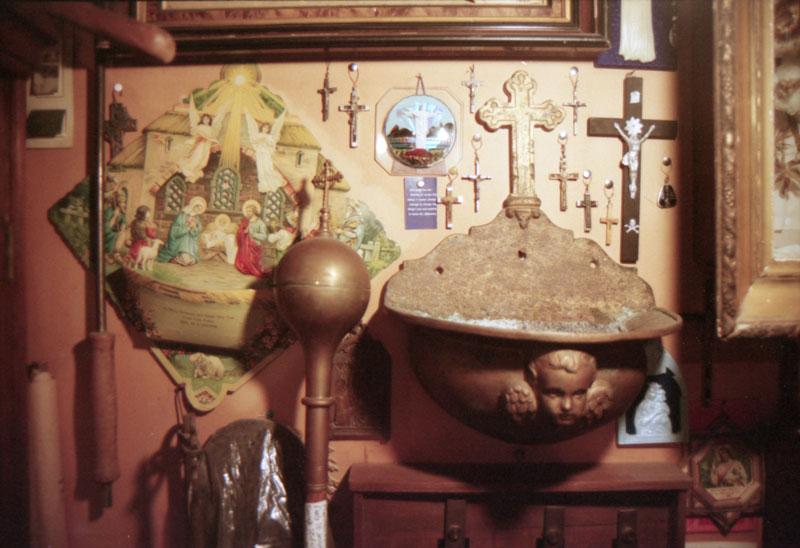 Across the aisle we see a scale model of a Montana steamboat made by Joe. He points out a rugged little woodcarving of Abraham Lincoln on the shelf, Joe's favorite president. And then there are some whittled tramp art geegaws in bottles. "Try doing that sometime," he says to impress us, "that'll try your patience... and your language!" The woodcarvings are delightful, but Joe's already moved on to the framed photographs in the entry hall. He shows us about the Big Jo flour mill that put Wabasha on the map, steamboats and railroads of long ago, and points out the photos of Wounded Knee and a panorama of a Buffalo Bill show.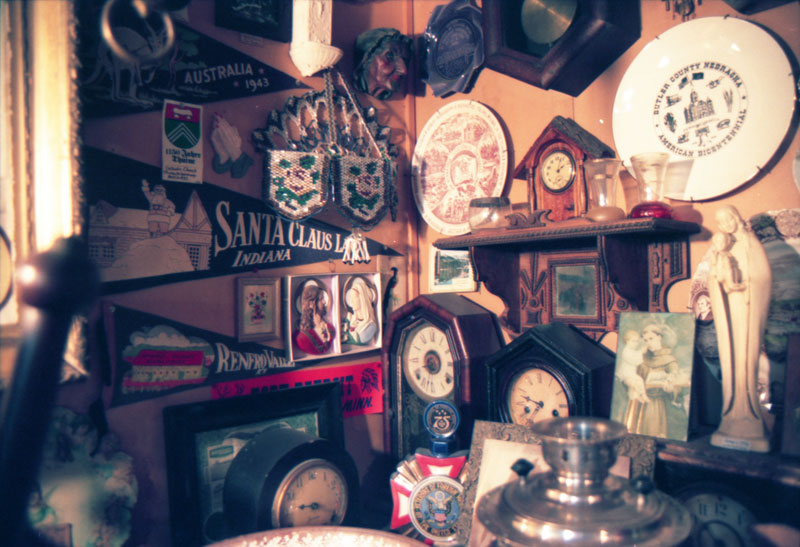 This photo shows a typical crowded corner of Suilmann's Museum. Its one of the few areas with enough light for my camera.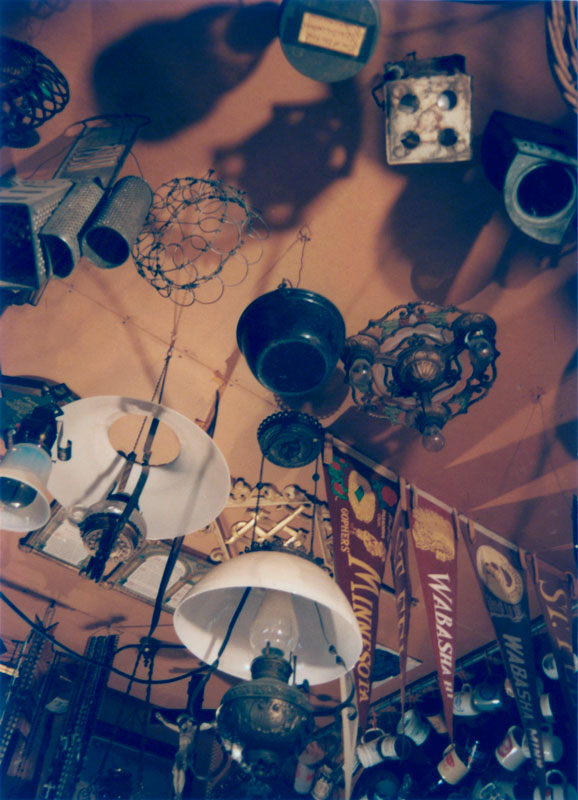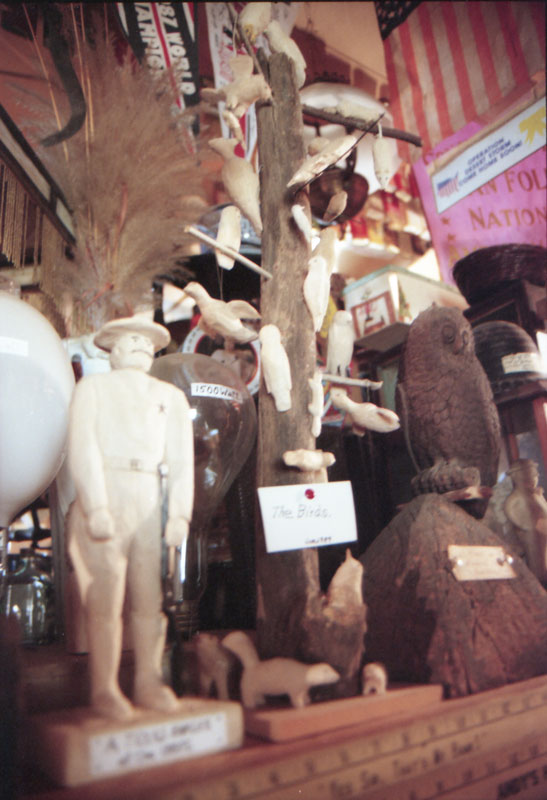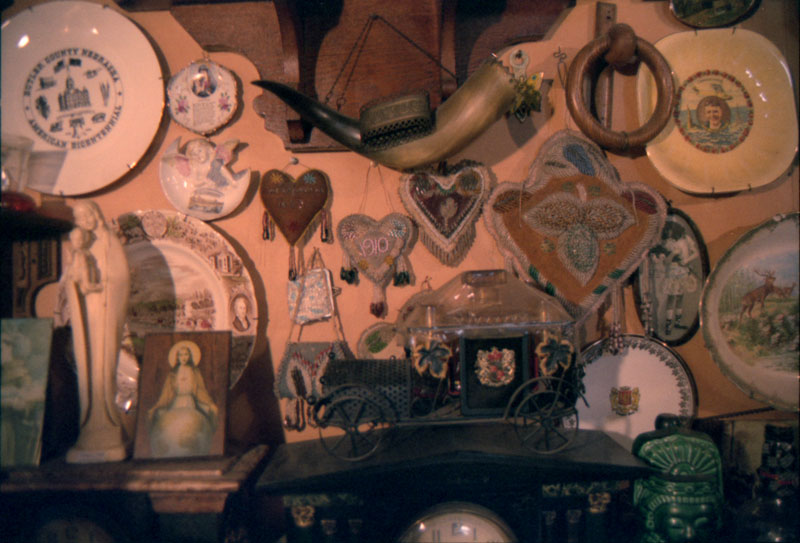 Sadly, I was never able to photograph my favorite things in the museum, such as the woodcarvings in bottles and all the tiny bottles of sand, so you'll have to imagine those for yourself, as the museum no longer exists.