---
Dutch Windmill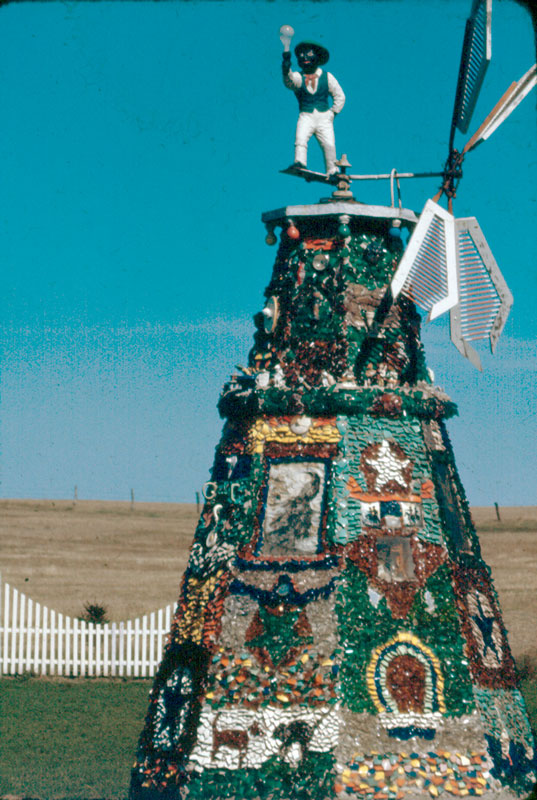 Mollie Jenson built her first large outdoor sculpture over two years around 1938-40. But Jenson didn't just follow a simple blueprint for her windmill, instead she turned the project into a 15-foot tall tower encrusted with colorful designs of cats and dogs, trees, stars and other designs made of broken glass. The windmill blades turn in the wind and the structure is topped with a cement lawn jockey for no apparent reason.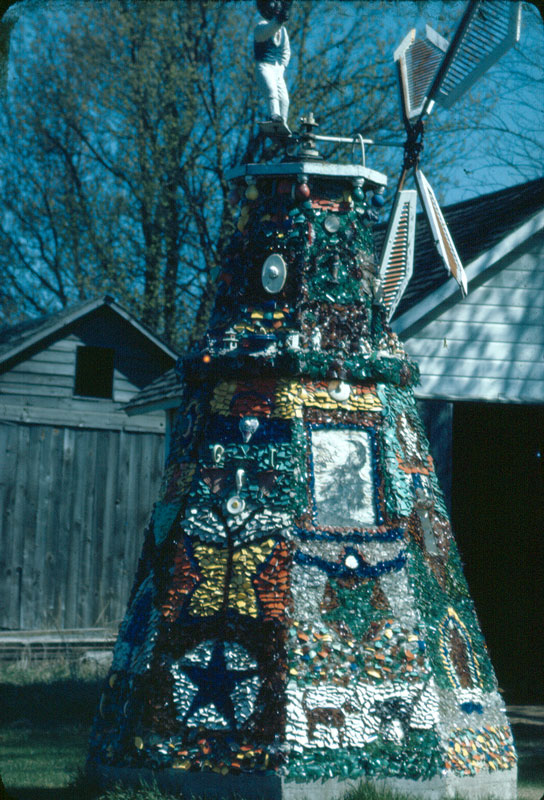 The Windmill featured a patchwork of quilt-like images made of colored glass shards as well as embedded fragments of coffee pots. The structure contained several small glass vitrine as protected spaces to show off some of Mollie's small wood carvings, photos and other mementos. Jenson's later sculptures incorporated similar spaces for larger display cases. A parade of ceramic figurines line a high shelf running around the windmill. At the top of the windmill, colored lights could be turned on at night, with the jockey at the top holding a single light bulb.
Photos courtesy Richard Moldenhauer
A Similar Windmill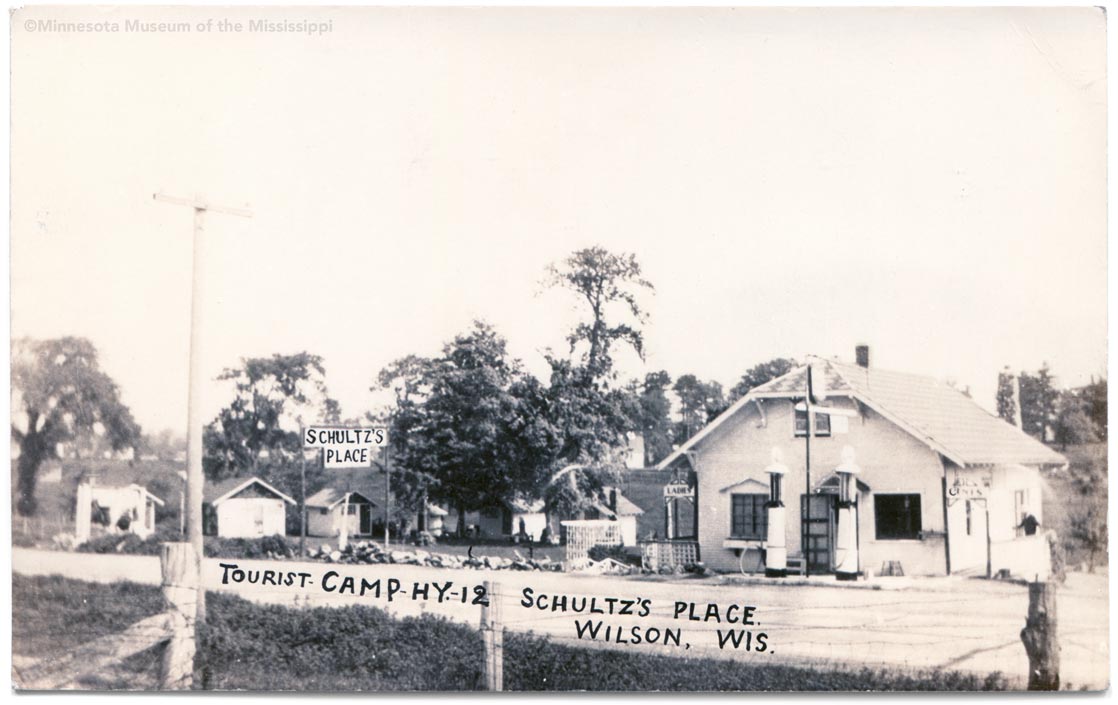 About 20 miles away from the Jenson farm, entrepreneur Emil Schultz owned a limestone quarry in the town of Wilson. After limestone prices faltered in the late 1920s, he opened a gas station along Highway 12 outside town. By the mid-1930s, Schultz added a cafe and tourist cabins to provide lodging for the growing numbers of auto tourists on the highway between Minneapolis and Chicago. In October 1938, the local Dunn County News, ever curious about Schultz's building projects, noted that he had just put the finishing touches on an "antique windmill" embedded with broken glass in concrete, after two months of work.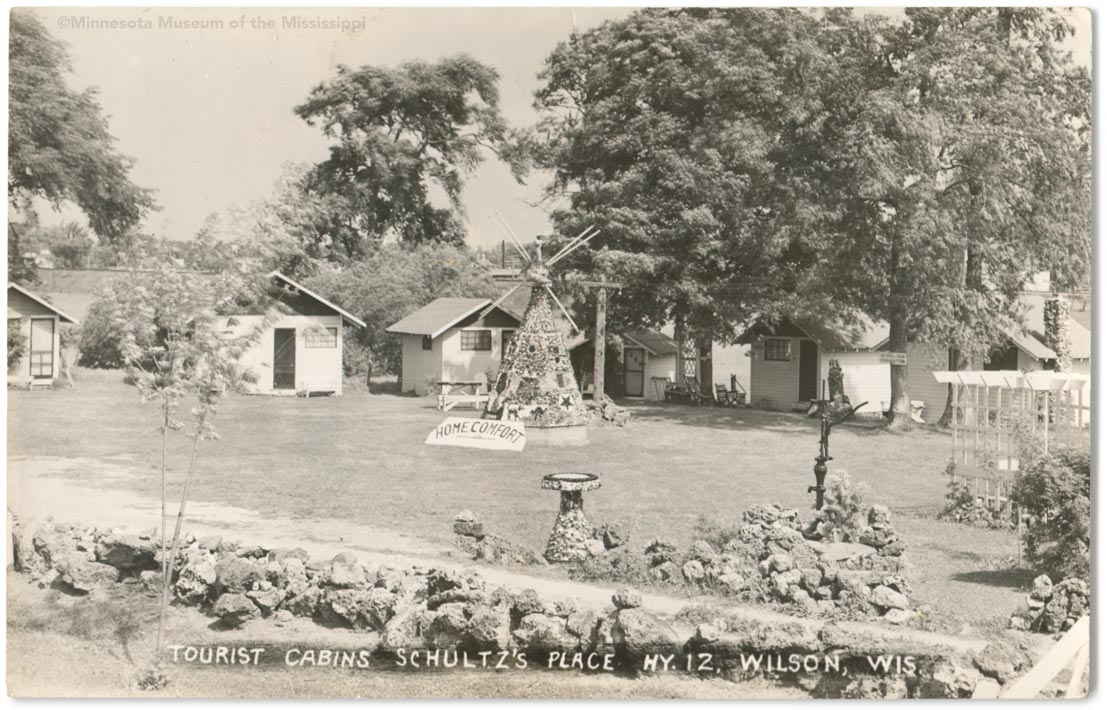 The similarities between Schultz's and Jenson's windmills are striking: with similar proportions, similar patchwork panels, the same incongruous jockey standing on top of the windmill mechanism and even the same cat and dog design. Here the jockey is holding a car fan, which may have turned in the breeze as a whirligig. Above a shelf of glass insulators or upturned bottles the embedded glass appears to be placed randomly instead of an image. Schult's windmill is raised on a base made of concrete or concrete blocks.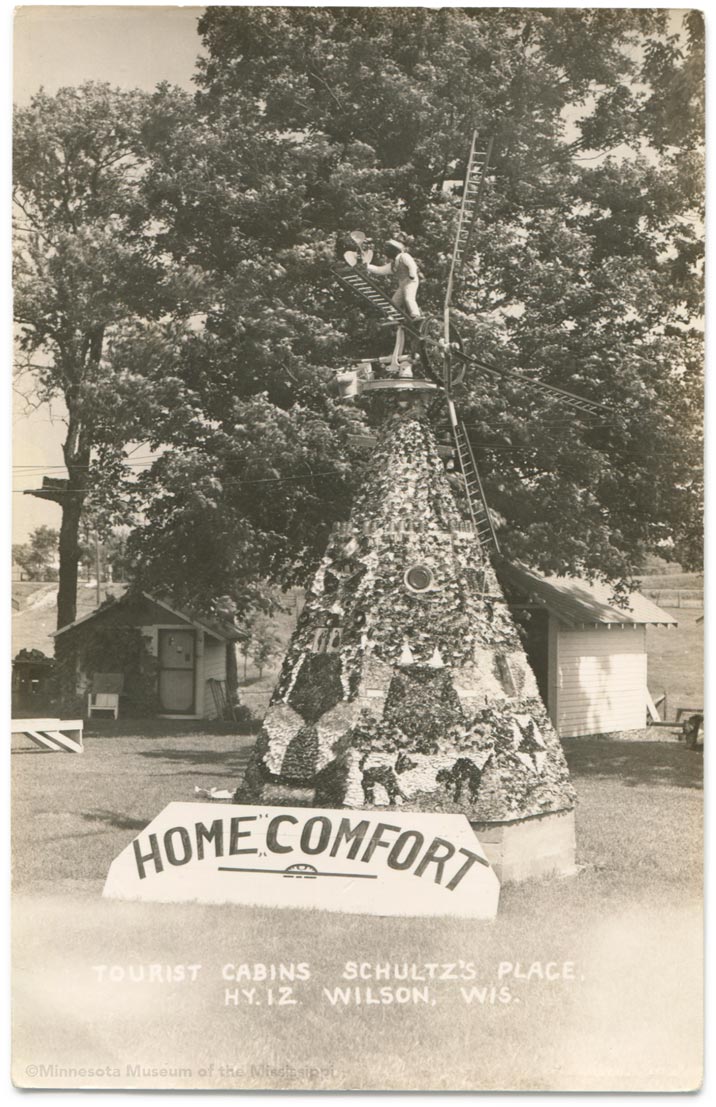 The connection between the two sculptures would seem to indicate that Mollie Jenson had seen the Schultz windmill. Every June, Emil Schultz sponsored a large Sunday party for the public on his birthday at the gas station with a live band and food. Perhaps the Jensons attended, or stopped here another time to buy gas while driving Highway 12.
A different explanation is that plans for this windmill and its patchwork designs may have appeared in a craft magazine such as Popular Mechanics, which often featured designs for homemade yard embellishments in the 1930s. Two rock-encrusted lighthouses in a similar octagonal style were built at Rockome Gardens in Illinois at about the same time.