Garden Delights: Concrete Curiosities and Accumulations
The early part of the twentieth century saw the fortunate conjunction of two new technologies: the automobile and quick-setting concrete. From the first all-weather concrete pavement laid in Bellefountain, Ohio, roads and highways spread across the Midwest. Bicycle and early automobile enthusiasts pushed for roadway improvements and the beginnings of the federal highway system. With increased ease of travel, and a little bit of spending money, a decentralized tourist class was born, spreading out from big cities as well as small towns in search of a bit of diversion or entertainment as well as new scenery.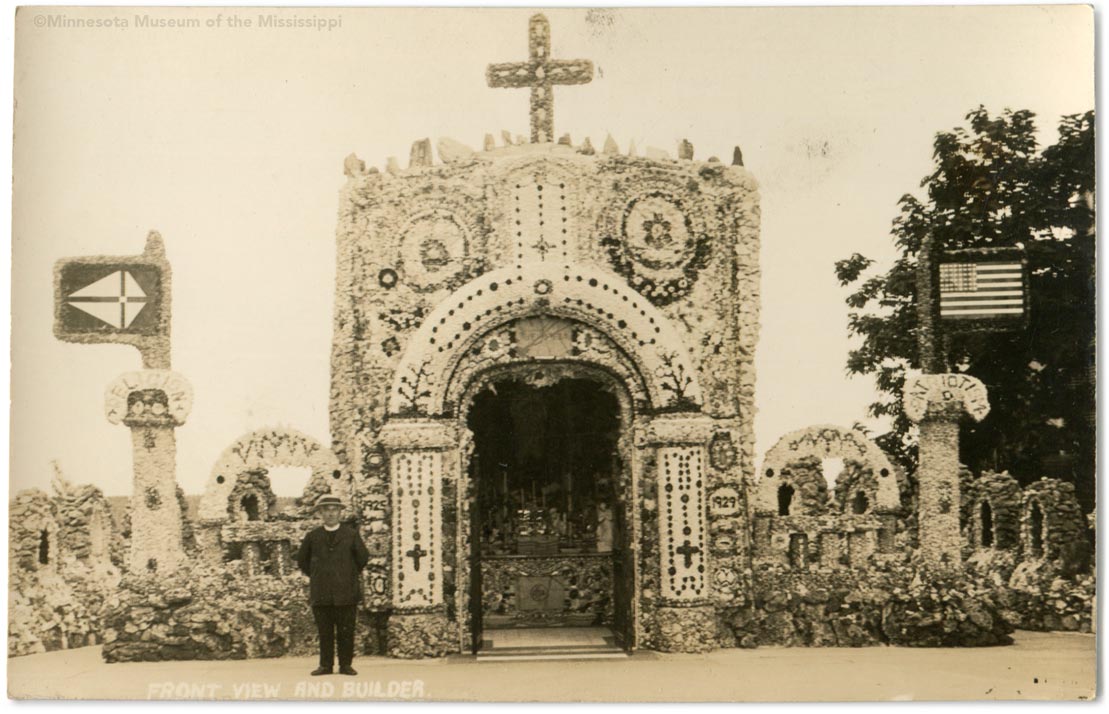 In the rural Midwest, a typical tourist might be a farm family out for a Sunday drive, stopping at a new picnic ground or a roadside petting zoo for the children. Tapping into this new tourist market, enterprising craftsmen and women in small towns all across the Midwest built homemade gardens and museums pitched to these visitors. A farm-bred do-it-yourself confidence and readily available portland cement allowed even solitary individuals to build monumental public spaces and make a name for themselves, while working with materials and concepts already familiar to their visitors.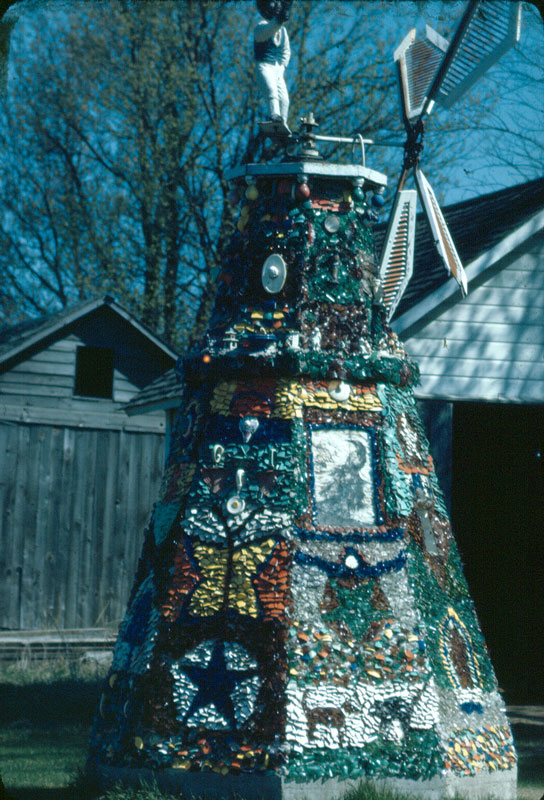 While many fantastic roadside environments may have seemed exotic or unusual, they are all essentially familiar Midwestern crafts: woodcarving, decorative wall-building, gardening, quilting, etc, taken to an obsessive level. What captures our attention in these places is the dichotomy between seemingly casual activities and the seriousness of taking those activities farther than anyone else. Whether created for private purposes or to entertain or educate visitors, the creators of these home-made curiosities were driven to pursue their playful craft-like hobbies with a work-like singleness of purpose.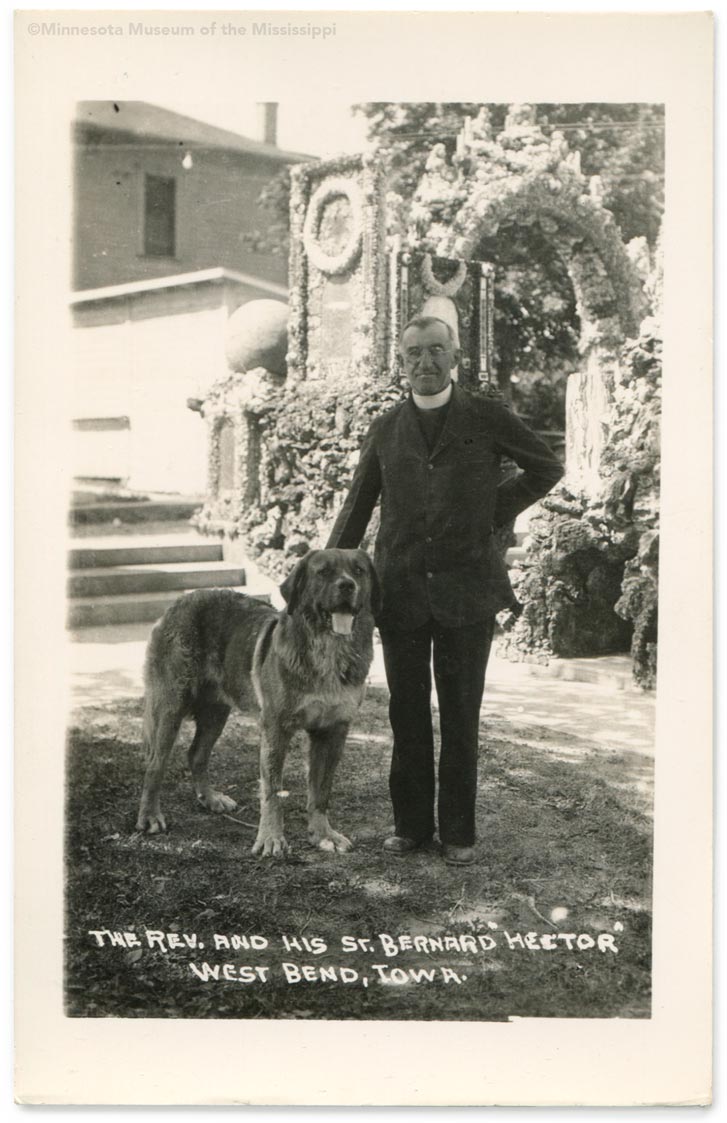 Unlike other crafted objects, the rock garden is consciously created for the viewer to enter, participate in and experience first-hand. To understand these home-made environments, it is not enough to simply look at them in a museum, we must visit them, explore them, sit awhile and admire the flowers and interplay of natural and man-made. As outdoor gardens, they are constantly changing and open-ended spaces, different in each season and time of day.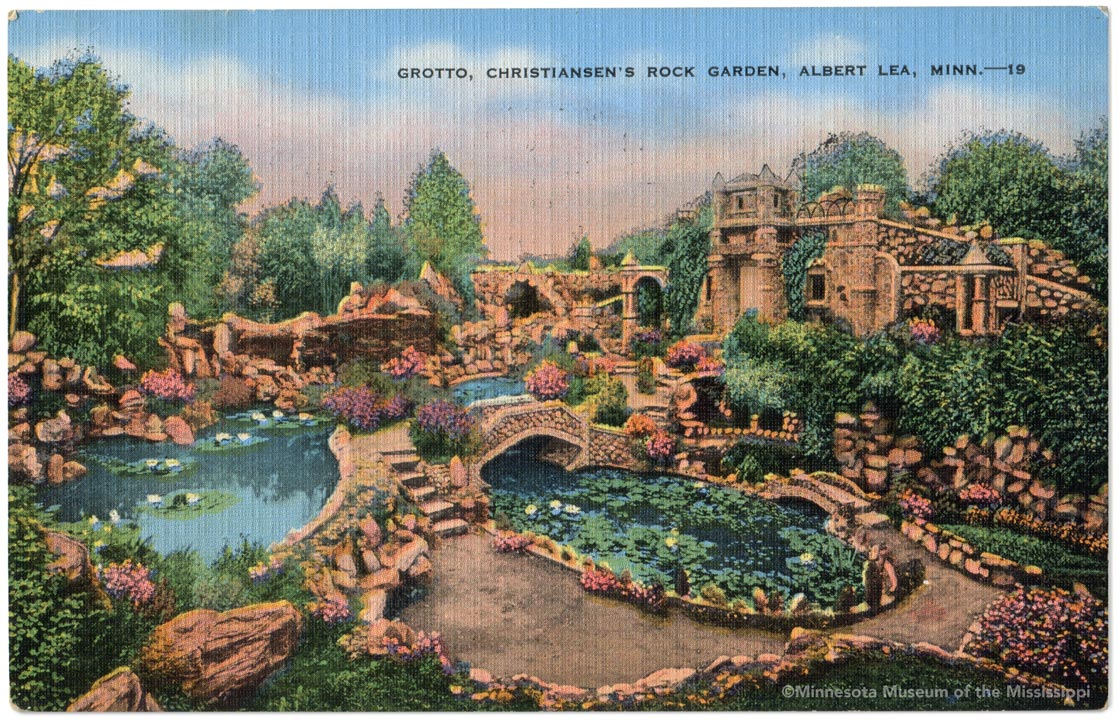 Dozens of examples of playful but obsessive roadside gardens once existed across the Midwest. Here are some of these sites:
Ak-Sar-Ben Gardens - Bay Lake, MN
Black Madonna Shrine and Grottos - Eureka, MO
Christiansen's Rock Garden - Albert Lea, MN
Dickeyville Grotto - Dickeyville, WI
Fountain City Rock Garden - Fountain City, WI
Grotto of the Redemption - West Bend, IA
Holy Family Grotto - St. Joseph, WI
Immaculate Conception Grotto - Carroll, IA
Johnsons Rock Garden - Hendricks, MN
Jubilee Dairy - Brimfield, IL
Liberty Monument / Fay Hession Fountain - Humboldt, IA
A Little Bit O' Heaven - Davenport, IA
The Molehill - Sauk Rapids, MN
Mollie Jenson's Zoo and Museum - River Falls, WI
Pathway Through the Bible - Joliet, MT
Prairie Moon Museum and Garden - Cochrane, WI
Rockome Gardens - Arcola, IL
Rudolph Grotto and Wonder Cave - Rudolph, WI
Joe Suilmann's Grotto and Museum - Wabasha, MN
Wegner Grotto - Cataract, WI
---
References and Links to the Sites